Alessia Cara Takes a Stand for Body Positivity and Self-Love in "Scars to Your Beautiful"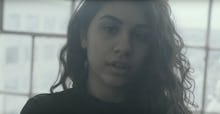 Alessia Cara aims to prove beauty comes in infinite varieties in her new music video for "Scars to Your Beautiful." The video, released Monday via her Vevo channel, features a diverse cast of women and men. The clip includes interviews in which they discussing their self-love and body positivity.
Cara is making a name for herself as one of pop's warmest, not to mention youngest, budding stars. The 20-year-old's latest single follows suit to "Wild Things" and "Here," both anthems for fans who stray from society's standards and pressures.
"I wanted all kinds of people," Cara told Cosmopolitan about her hands-on approach in selecting the cast. "Young, old, whatever their situation, whether it's visible scars, non-visible scars — just a bunch of different women, and there are some men in there as well because it can reach out to guys too. But I wanted real shots of real people telling their stories."  
"Hold on and just wait until you can get out of that bubble," one woman says in the video. "Because the things that seem like weaknesses, that seem like weird things that make you strange, when you become an adult and go out into the world you're going to find out that all those differences, they're like your greatest strengths." 
"Often times, the world both directly and indirectly tells us that we shouldn't be happy with ourselves if we don't fit certain beauty standards," a message at the end of the video reads as Cara walks offscreen. "'Scars to Your Beautiful' is a reminder that beauty isn't only one look, shape, size or color. It isn't even always tangible. It comes in an endless amount of forms and we need to recognize that."
Watch "Scars to Your Beautiful" below.
Read more: