Sand Sculptor Sculpts Busty Mermaid; Local Massholes Immediately Body Shame Sculpture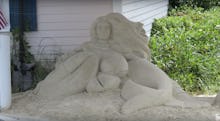 Some residents of Yarmouth, Massachusetts, are body shaming a local sand sculpture, Mashable reported Tuesday.
In keeping with tradition, 41 sand sculptures have recently popped up in Yarmouth as part of the town's Summer Celebration. One such sculpture is a mermaid, stationed in front of Salty's Seafood Restaurant. 
The mermaid has apparently magnetized the ire and disgust of Massholes offended by her ample bosom — local law enforcement initially posted a picture of the sand statue on its Facebook page, but had to remove it "due to complaints" directed to the Chamber of Commerce from a miffed, unnamed few, according to Cape Cod News. 
"[The photo] conflicted with some people so we took the picture down and replaced it with another one," police chief Frank Frederickson told the Cape Cod News. 
Salty's mascot is a mermaid — a busty, bare-chested mermaid, per the below drawing. 
The sand sculpture's nipples are covered by a shell bra, but the sheer volume of its cups seems to have been more than some residents can abide. As evidenced in this photo, published by MassLive, each of the sculpture's breasts is roughly the size of a man's head — Salty's owner Raymond Roy's head, to be exact. 
Roy defended the piece — which he commissioned — to CBS Boston. 
"I felt that nobody knows what a mermaid looks like," he said. "Nobody's ever seen a mermaid, and I wanted something totally different." According to CBS, "something totally different" was a smaller waist and bigger breasts.
Women with large breasts and curvy figures are often shamed for the way their bodies look. Seeing them celebrated so publicly — and in WASP-y Cape Cod, at that — does make for a refreshing change. On the other hand, who among us is surprised by a man requesting "more boob, please?"
Despite alleged backlash from townspeople, Roy refuses to budge. The Salty's sand mermaid will stay, he said — and what's more, the sculpture will be back next year. 
Hell, he might even make the mermaid — and her curves — even bigger. 
Read more: