Amazon Prime Day: Best Deals for the Gadget Geek on a Budget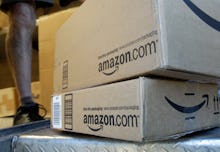 It's Amazon Prime Day, which means if you've been holding out for a TV, Kindle, Xbox, Roomba, pair of headphones or some other coveted gadget, now's the time to strike. Not everyone has $700 to spend on a Segway, however, so we've laid out the best deals for any budget — from least to most expensive.
Want to save even more money? Money has some helpful tips: Compare prices on Google Shopping to make sure you've found true deals, for instance, and use your Amazon credit card for $30 off $150 orders. Also, as writer Lisa Lee Freeman spotted, you can use the promo code 10PRIMENOW for an additional $10 off today and $10 off later if you've never used the company's PrimeNow same-day shipping service before.
Want the short version? Here you go: If I were you, I'd spend exactly $130 and get the new Kindle Paperwhite and an Anker portable charger. That combo would last you a few months on a desert island.
$8
OldShark clip-on iPhone camera lenses — $7.99 
Update: The price has gone up from its original discounted price of $5.58.
Regular price: $19
Get fisheye and macro shots out of your regular smartphone for five bucks. You'll get some interesting Instagram photos out of it, then probably regift it. 
$15
Exploding Kittens card game — $15
Regular price: $20
The Oatmeal cartoonist Matthew Inman made and crowdfunded a card game, and it quickly became the most-backed game ever on Kickstarter. I played it at a family reunion and found it fairly simple to pick up, good for killing a couple hours and, most important, not as awkward to play with your aunt and uncle as Cards Against Humanity can be. As board games go, however, Catan ($40) is still the best way to spend a weekend on a golf course with three to four relative strangers.
$40
Anker PowerCore 20100 20,000 mAh portable charger — $40
This isn't a Prime Day deal, but screw it, everyone should have one of these. It fits easily in a bag and will save you in those unexpected moments when you're playing Pokémon Go and realize you're at 10% battery. It kept my phone charged on a recent four-day trip without outlets and still had half its power capacity left. It's simply not worth it to get a smaller, weaker charger you'll have to charge after every use.
$50
Bose SoundSport in-ear headphones — $50
Regular price: $99
Apple's earbuds sound terrible and don't stay in your ear, so hurry up and replace them. This Bose pair has awesome reviews from Amazon with an average of 4.5 stars, though some reviewers say they easily fall apart. The solution is probably just to keep them in their case, but if you're looking for a durable pair that your bag won't destroy, go for a pricier option. The Wirecutter is a big fan of these Marshall Mode earbuds.
Regular price: $80
Fifty bucks is a ridiculous price for Amazon's low-level Kindle reader. If you don't have one and don't have $100 for the superior Paperwhite, this thing will change your reading habits for the better. You can finally finish Infinite Jest without having to lug it around on the train. 
One major caveat, though: no backlight. One of the best Kindle features is its soft lighting, which lets your partner go to sleep while you stay up reading in the dark. The cheapest Kindle lacks one. If you expect to own your Kindle for a while (and you will; I've had mine since 2012 and it's going strong), consider spending $90 — also an amazing deal — on the superior Kindle Paperwhite. See below for more detail.
$75
Instant Pot IP-DUO60 7-in-1 Multi-Functional Pressure Cooker, 6 quarts — $70
Regular price: $120
The beauty of a slow cooker is you can throw food in there in the morning, set it and forget it, then have a delicious meal in a half hour. For the price of a nice dinner, you could have slow-cooked meals for life. Reviewers like how well the stainless steel insert browns meat, how easy it is to use and how quickly it works. The Instant Pot doubles as a rice cooker, steamer and yogurt maker. Go nuts.
$90
Regular price: $120
Remember my spiel about the Kindle? Yep, this is the better one. The 300 ppi resolution makes the text crisp and clear and the backlight makes a world of difference.
$250
Dewalt DCK421D2 20V MAX Lithium-Ion 4-Tool Combo Kit — $236
Regular price: $330
Get yourself some good tools. Cut some wood, make your own damn shelves and hang them yourself. With this combo kit, you get a couple drivers, a circular saw and a few battery packs.
Regular price: $380
Never vacuum again. Period. The Roomba 614 has great reviews and will do your chores while you go work out (or sleep in) on Sunday. Why not buy it? I guess for $250 you could order a couple cleaning services instead. Or clean the house yourself and buy an Xbox One — currently sold out; no more Prime Day deal — with that money.
Update: Looks like this deal is gone too. Fortunately, the Roomba 650 is available for $319.
$300
Hisense 43H7C2 43-inch 4K Ultra HD Smart LED TV — $300
Regular price: $400
If you're the type of person who's not looking for a space-age television with all sorts of needless bells and whistles, this model is very highly reviewed on Amazon for the price. Users say watching Netflix in 4K resolution looks amazing, and they love the four-year warranty, which includes in-home service.
July 12, 2016, 1:34 p.m.: This story has been updated.