Yes, People Are Actually Getting More Exercise Thanks to 'Pokémon Go' — We Have Proof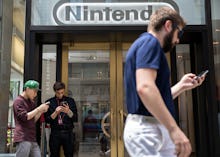 Pokémon Go — it's more popular than burgeoning love, the miracle of life and maybe even life itself — but one thing's for damn sure, it's a smartphone game getting people off their asses. 
The augmented reality game requires players to walk around — and according to activity tracker data, Pokémon Go players were getting more steps in while trying to catch 'em all.
Activity tracker company Jawbone said in an email that people in the U.S. who use its UP band and mentioned they played Pokémon Go in the app's comments got an average of 62.5% more steps the weekend the game launched compared to an average weekend.
According to data Jawbone sent over email, users who mentioned Pokémon Go averaged 6,590 steps the weekend of June 4, 6,444 steps the weekend of June 11, 7,395 steps the weekend of June 18, 6,566 steps the weekend of June 25 and 6,063 the weekend of July 4. 
But come the release of Pokémon Go, there was a spike on those sweet steps. On the weekend of July 9 — the weekend Pokémon Go launched — these users averaged 10,936 steps. 
"UP users can comment on their own as well as their friends' activity, sleep stats, nutrition, etc. in the UP dashboard," a Jawbone spokesperson said in an email. "So we were able to see users were commenting that they'd been playing Pokémon Go, because they had gotten an unusually large number of steps over the weekend." 
Say what you will about the Pokémania — at least it's helping players rediscover the beauty of the natural world... through their smartphone screens. 
Read more: