Bernie Sanders Endorses Hillary Clinton: "She Will Be the Next President"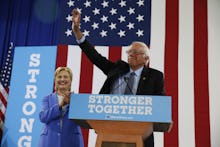 Sen. Bernie Sanders on Tuesday officially endorsed presumptive Democratic nominee Hillary Clinton, saying at a rally in New Hampshire that Clinton will be the party's nominee and he will do "everything I can to make certain she will be the next president of the United States."
"This campaign is about the needs of the American people and addressing the very serious crises that we face," Sanders said. "And there is no doubt in my mind that, as we head into November, Hillary Clinton is far and away the best candidate to do that."
While Sanders spent a few minutes touting his own performance in the race, thanking the 13 million Americans who voted for him, he offered an unequivocal endorsement of Clinton's candidacy. He praised her commitment to fixing a "rigged" economy, raising the minimum wage and nominating progressive Supreme Court justices.
Sanders also praised Clinton personally.
"I have known Hillary Clinton for 25 years," Sanders said, according to his prepared remarks. "I remember her as a great first lady who broke precedent in terms of the role that a first lady was supposed to play as she helped lead the fight for universal health care. I served with her in the United States Senate and know her as a fierce advocate for the rights of children. Hillary Clinton will make an outstanding president and I am proud to stand with her here today."
Clinton, for her part, praised Sanders for bringing "people off the sidelines" and energizing and "inspiring a generation of young people."
"Thank you, Bernie, for your endorsement, but more than that, thank you for your lifetime of fighting injustice," Clinton said. "I am proud to be fighting alongside you because, my friends, this is a time for all of us to stand together."
The rally was the first time the two appeared together since April 14, when they met for the final Democratic primary debate in Brooklyn, New York.
It comes two weeks before Democrats meet in Philadelphia for the Democratic National Convention, and it marks the start of a long-awaited unity tour that Clinton hopes will help her defeat Donald Trump in November.
For weeks, Sanders refused to suspend his campaign, despite the fact Clinton clinched the nomination following the California and New Jersey primaries in June.
Instead of ending his campaign and endorsing Clinton, he pushed forward in a quest to fight for the addition of his policy proposals to the Democratic platform.
After the Democratic National Committee, as well as Clinton, adopted some of his key policies — such as tuition-free educations at public colleges and universities — Sanders came out to endorse Clinton's candidacy.
Polling already shows that Sanders backers are coalescing behind Clinton.
But the crowd at the event in New Hampshire was a mixed bag.
A number of Sanders supporters in the crowd were eager to show their commitment to Sanders, as well as their refusal to vote for Clinton.
Read more: