Joe Paterno Ignored Sexual Assault Allegations Against Jerry Sandusky, New Documents Say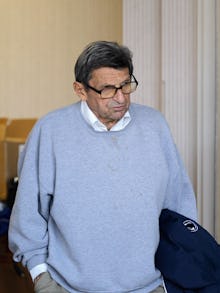 On Tuesday, nearly 400 pages of court documents were unsealed by a Philadelphia judge, reportedly alleging beloved Penn State University football coach Joe Paterno ignored complaints of sexual assault regarding assistant coach Jerry Sandusky.
The documents, which are part of Pennsylvania Manufacturers Association Insurance Company's lawsuit against the school, contain several alleged examples of reports of "improper sexual contact" by Sandusky that were apparently never disclosed to the school's insurance company by either Paterno, who died in 2012, or other Penn State officials, WGAL reported.
In testimony from 2014, a victim known as John Doe 150 said following a 1976 incident in which Sandusky sexually assaulted him in the shower, he told Paterno about the abuse. The documents show Doe's lawyer asked Doe in court whether Paterno had responded, "I don't want to hear about any of that kind of stuff, I have football season to worry about," and Doe said, "Yes ... I was shocked, disappointed, offended," the Washington Post reported.
Another victim, called John Doe 75, testified that in 1987 Sandusky was caught by an assistant coach putting his hand in the victim's shorts — but the assistant coach didn't do anything, the Washington Post reported.
Other testimonies described Sandusky showering with the boys or staying in the same hotel room as them. 
Paterno's family issued a statement addressing and denying the existence of any cover-up, according to the Washington Post.
"Although settlements have been reached, it also is important to reiterate that the alleged knowledge of former Penn State employees is not proven, and should not be treated as such," Penn State president Eric Barron said in a statement, according to WGAL. "Some individuals deny the claims, and others are unable to defend themselves."
Sandusky's arrest in 2011 was followed shortly by the ousting of Paterno and then-Penn State president Graham Spanier. For reparations, Penn State has paid out $93 million to over 30 of his accusers. Sandusky is currently serving a sentence ranging from 30 to 60 years for 45 counts of sexual abuse against 10 boys. 
Read more: