Wildlife Show Eagle Tries to Carry Boy Away "Like Small Animal"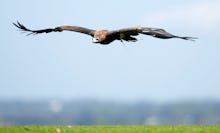 At a wildlife show in central Australia's Alice Springs Desert Park, a wedge-tailed eagle took a liking — or disliking — to a young boy wearing a green hoodie when it tried to pick up and carry the boy away, according to witnesses of the July 6 fiasco. 
"It looked as if the bird tried to pick him up like a small animal and take off with him," a witness named Keenan Lucas said, according to NI News.
According to the Instagram of another witness, Christine O'Connell, the boy was zipping his jacket up and down. That sound may have caught the attention of the eagle, which swooped directly toward his head. But the boy was too heavy for the eagle, which is Australia's largest bird of prey, and received a gash to his face. 
"The bird then flew over the crowd and tried to grab on to a young boy's head," Lucas said. "He screamed, the mother was distraught and the presenters wrapped up the show very quickly." According to Lucas, the park staff was "calm and collected after the fact."
A statement by the park said an investigation is underway and the eagle has been removed from the show. 
"Those talons are huge he was a very lucky young boy," O'Connell wrote in her Instagram post.
Read more: