Rich Homie Quan Butchered a Biggie Verse at Hip-Hop Honors — And Twitter Is Dragging Him for It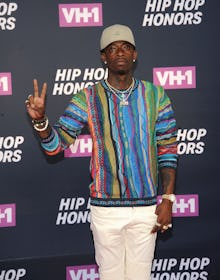 Rich Homie Quan had one job during VH1's Hip-Hop Honors show on Monday night: stand alongside a queen of rap, Lil Kim, and perform one of the most famous rap verses from the king, Biggie Smalls' "Get Money." You would think a rising rap star would prepare for such a momentous occasion, yet it quickly became clear he hadn't even memorized the words. 
The Atlanta-based rapper did manage to slip into Biggie's notorious coogi sweater, though — so there's that. 
But sadly, his Biggie-themed look wasn't able to save him from the onslaught of savage critiques he received for his subpar performance on social media. Tuesday morning, Rich Homie Quan's Instagram was flooded with banter slamming him for forgetting Biggie's lyrics, with users writing "you played yourself," "SMH" and "#BiggieLyricsMatter" across his photos. 
Twitter was perhaps even more brutal, as users skewered the "Flex" rapper for coming unprepared to honor one of his elders, in Biggie's hometown no less.
Users also skewered Rich Homie Quan with a personalized hashtag, #RichHomieKaraoke, which reimagines other hits with his special brand of lyrical fuckery.
Rich Homie Quan has yet to speak on the issue, or even so much as tweet (or post on any of his social media profiles, for that matter) — but R.I.P. to his mentions.
Fortunately for the rest of the artists, Monday was a loaded night featuring the queens of hip-hop both old and new, including Queen Latifah, Missy Elliot, KeKe Palmer, Monie Love, Eve and more. Rich Homie Quan was just the joker.
July 12, 2016, 7:45 p.m.: Rich Homie Quan's team sent a statement to Mic, officially apologizing "not only to Biggie Smalls, but to all of my fans, Biggie Smalls' fans and to New York." Read the full apology below:
"I assure you that I never intended to disrespect the Memory of Biggie Smalls. I have long respected his work and his contribution to the rap game. I greatly apologize not only to Biggie Smalls, but also to all of my fans, Biggie Smalls fans and to New York. The city of New York has been nothing but good to me. I felt honored to stand on stage with artists I grew up listening to. Once on stage I had some technical difficulties and must admit I got nervous. I will forever be sorry New York, my fans, Biggie Smalls, Biggie Smalls fans, Lil Kim, and all the Hip Hop community for my performance. I hope you can accept my apology. To Lil Kim, Thank you for the opportunity."
Read more: