Winona Ryder Stars in Latest Netflix Original Series 'Stranger Things'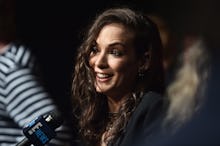 Your '90s alt-girl fave Winona Ryder is back in the latest Netflix original series, Stranger Things: a creepy mystery series set in small-town Indiana in the 1980s that debuts Friday.
According to the Netflix synopsis, "When a young boy vanishes, a small town uncovers a mystery involving secret experiments, terrifying supernatural forces and one strange little girl." The series, created by Matt and Ross Duffer, is being hailed by critics as an homage to the work of director Steven Spielberg.
Ryder plays the desperate mother of a missing child, and one of the series' trailers shows her looking appropriately wild-eyed and messy-haired. The series also stars David Harbour as the town's police chief and a host of young actors as the kids who head off in search of their missing friend.
The first season of Stranger Things is divided up into eight hourlong episodes, Deadline reported — so binge carefully, folks, because before you know it, you'll be done.
Read more: