Bernie Sanders' Former Fans Blast #SelloutSanders After Hillary Clinton Endorsement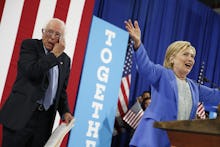 Sen. Bernie Sanders' biggest fans went after him on Twitter Tuesday, using the hashtags #SelloutSanders and #NeverHillary after he endorsed presumptive Democratic presidential nominee Hillary Clinton at a joint rally in New Hampshire.
Soon after Sanders wrapped his endorsement speech, the angry tweets poured in saying Sanders' endorsement was the ultimate betrayal.
Many of Sanders' most fervent supporters refused to believe Sanders would actually endorse Clinton's campaign — even after his campaign announced the joint event on Monday.
Users on Reddit expressed wishful thinking that he wouldn't actually endorse, and if he would, that he would not praise Clinton.
But Sanders ultimately offered an unequivocal endorsement of Clinton, saying he will do everything he can to get her elected.
"I have come here to make it as clear as possible as to why I am endorsing Hillary Clinton and why she must become our next president," Sanders said, before laying out the reasons for his endorsement.
Meanwhile, Green Party presidential nominee Jill Stein — who hopes to win over many of Sanders' primary voters — also joined the criticism on Tuesday.