Jennifer Lopez Tweets #AllLivesMatter, Deletes It, But Not Before Twitter Clapped Back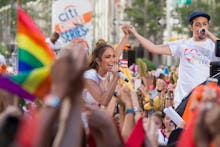 She went from "Jenny from the block" to Jenny getting blocked.
Earlier today, queen-of-all-media Jennifer Lopez tweeted a snapshot from a performance of her new single "Love Makes the World Go Round," on NBC's Today. Lopez co-crafted the single with Hamilton star Lin-Manuel Miranda. Along with the snapshot, she wrote, "#AllLivesMatter #LoveMakestheWorldGoRound." 
Ms. Lopez, the people have one question:
Of course, #AllLivesMatter is the ignorant response to #BlackLivesMatter, and the derailing hashtag usually only pops up when racists want to stop a conversation about justice in its tracks. 
Miranda and Lopez's track is a charity single in honor of the victims of the Pulse nightclub shooting in Orlando, Florida. The hashtag choice is really confusing, especially given that the attack was on an LGBTQ nightclub on Latino night.
Lopez deleted the tweet within minutes, but not before people dragged the chanteuse on social media anyway. 
Lopez needs to issue a retraction if she wants to "get right" with her fans, but something tells me she's gonna be alright. 
But for now, there's a resounding echo of "I don't know her" bouncing across the internet. 
Read more: