Bernie Sanders Shuts Down Donald Trump on Twitter After Attacks Over Clinton Endorsement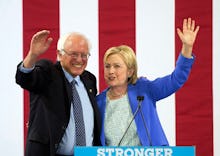 Sen. Bernie Sanders hit back at Donald Trump on Tuesday, after the presumptive Republican nominee accused Sanders of having "totally sold out" for his endorsement of Hillary Clinton.
"Bernie Sanders, who has lost most of his leverage, has totally sold out to Crooked Hillary Clinton," Trump tweeted. "He will endorse her today — fans angry!
Sanders responded with his own biting tweet, saying Trump's comment was merely "big talk from the same guy who was too afraid to debate Bernie in California." (Trump had agreed to debate Sanders ahead of the California primary, but backed out of the event saying it was "inappropriate" for him to debate the "second-place finisher" in the Democratic primary.)
Still, Sanders' taunt didn't stop Trump from continuing his tweet storm after the Clinton endorsement.
Trump compared Sanders' embrace of Clinton to "Occupy Wall Street endorsing Goldman Sachs."
He also issued an invitation to disaffected Sanders supporters to join his campaign, saying he will welcome them "with open arms."
Sanders, for his part, attacked Trump in his Clinton endorsement speech, saying he would not fight for any of the progressive policies Sanders lobbied for in the primary.
"Our job now is to see that platform implemented by a Democratic Senate, a Democratic House and a Hillary Clinton president — and I am going to do everything I can to make that happen," Sanders said.
Read more: