Obama's Tribute to Slain Dallas Police Officers: "Sorrow Can Make Us a Better Country"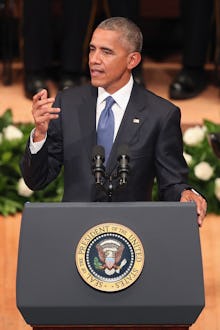 At Tuesday's memorial service for the five police officers slain Thursday in Dallas, President Barack Obama called the shooting "an act not just of demented violence but of racial hatred." 
In his speech, Obama pleaded for people to join together in solidarity and fight division and old notions in order to promote change. "I believe our sorrow can make us a better country. In the end it's not about finding policies that work, it's about forging consensus and fighting cynicism and finding the will to make change," he said, noting that he's all too familiar with addressing the tragedies that follow nonsensical violence. 
"But Dallas, I'm here to say we must reject such despair," Obama said. "I'm here to insist that we are not as divided as we seem and I know that because I know America. I know how far we've come against impossible odds. I know we'll make it because of what I've experienced in my own life. I know it because of what we've seen here in Dallas, how all of you, out of great suffering has shown us the meaning of perseverance and character and hope."
Obama called the work of police officers "like no other," adding that the Dallas Police Department is more progressive than most. He described and honored each of the officers who were killed in the shooting. When the gunfire first broke out, the officers were quick to save the lives of those attending the Black Lives Matter peaceful protest. "For the moment you put on that uniform you have answered a call that at any moment even in the briefest interaction may put your life in harms way," Obama said. 
Although race relations have improved over the course of his lifetime, Obama said that bias still remains, even in institutions such as the police department, which led to last week's police killings of Alton Sterling and Philando Castile. Those killings were the subject of the protest became deadly when Micah Johnson opened fire, presumably targeting officers.
"The vicious killer of these police officers they won't be the last person to try to make us turn on one another," Obama said. "The killer in Orlando wasn't, nor was the killer in Charleston. We know there is evil in this world, that's why we need police departments."
Read more: