On the Anniversary of Sandra Bland's Death, These Rallies Are Happening in a City Near You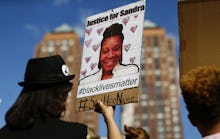 On July 13, 2015, Sandra Bland was found hanging in a jail cell in Waller County, Texas
Three days prior, on July 10, Texas state trooper Brian Encinia pulled Bland over for failing to signal a lane change. Video footage shows that cops were aggressive in her arrest — slamming her head into the ground — after she allegedly assaulted him.
The coroner later ruled her death as a suicide, as authorities from Waller County said she hanged herself with a trash bag.
But for Bland's survivors and activists, the story just didn't add up.
According to family and friends of Bland, the Chicago native wouldn't have killed herself. Bland reportedly moved to Texas to start her new job as a college outreach officer at Prairie View A&M University — her alma mater. Her friends told reporters that things were going relatively well for Bland and they hadn't see any signs that she would harm herself.
Activists also didn't believe authorities' accounts, since circumstances around Bland's death were all too familiar to the case of Freddie Gray, who had died in police custody just months before. Bland's death was also around the time video footage of Walter Scott being fatally shot in the back by a cop in South Carolina was released. It was also not long after Tamir Rice, a 12-year-old boy playing with a toy gun in Cleveland, Ohio, was shot and killed by a police officer.
While many people across the U.S. continue to protest in response to the police killings of Philando Castile and Alton Sterling, there are several rallies and vigils popping up across the country in memory of Bland and other victims of police brutality this month.
All the following events occur on the anniversary of Bland's death, July 13, unless otherwise stated.
New York
Justice For Sandra Bland And All Black Women Killed By Police — Brooklyn
At 6:30 p.m., an assembly in commemoration of Bland and all other black women killed by the police will congregate at the Church Avenue station on the B and Q trains. The exact address of the train station is 1896 Caton Avenue, Brooklyn, New York 11226. The People's Power Assemblies are the organizers of the event. You can find the Facebook event page here.
Sing Her Name — Manhattan
Beginning at 7:30 p.m., activists and musicians will perform at the Great Hall at Cooper Union for a concert in honor of Bland and victims of racial injustices. The concert will also include a performance by John McLaughlin Williams. Williams is a four-time Grammy Award-winning conductor and the first African-American orchestral conductor to be awarded a Grammy. Tickets are between $10 and $25. The address of the concert venue is 7 East 7th Street, New York, NY 10003. The lead organizers of the concert is The Dream Unfinished. You can buy tickets here.
Texas
Sandra Bland: One Year — Austin
Illinois
#SandyStillSpeaks — Chicago
Indiana
Celebrating Sandra Bland & Assata Shakur: Women & State Violence — Gary
At 6:30 p.m., all those wishing to honor Bland's death and Assata Shakur's 69th birthday are asked to attend a service at the Trinity United Church of Christ Gary. The church will be accepting donations and all of the proceeds will be sent to Bland's legal fund. The exact address of the church is 1276 W. 20th Ave, Gary, Indiana 46407. The Black Lives Matter Northwest Indiana chapter is the organizers of the event. You can find the Facebook event page here.
Maryland
Remembering Sandra Bland Celebrating Assata Shakur Rally & March — Baltimore
On July 14 at 6 p.m., activists will be meeting at the corner of 33rd Street and Greenmount Avenue before marching in the streets protesting against police brutality and the death of Bland. They will also be honoring Assata Shakur. The People's Power Assembly is organizing the march. You can find the Facebook event page here.
California
Requiem for Sandra Bland: "Transcendence" @ Art Share L.A. — Los Angeles
Beginning at 7 p.m., the Art Share gallery will be open to the public for an installation called "Requiem for Sandra Bland." It will be the fourth installment of a series in honor of Bland. The entry fee is $5 and can be paid at the door. There will also be a thematic reading honoring her life. The exact of address of Art Share is 801 E. 4th Pl, Los Angeles, California 90013. You can find the Facebook event page here.
March 12, 2018, 2:41 p.m.: This story has been updated to remove an event promoted by a Facebook page that was found to be linked to the Internet Research Agency, a "troll farm" based in Russia.
Read more: