Erykah Badu Donates Detroit Concert Proceeds to Help Process Untested Rape Kits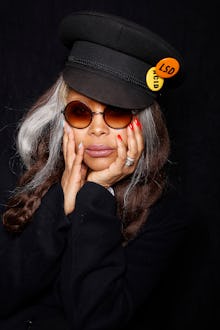 Erykah Badu is donating proceeds from her upcoming concert in Detroit, Michigan, in an attempt to bring justice to rape victims.
In 2009, over 11,000 rape kits were found in an abandoned storage unit belonging to the city's police department, the Detroit Free Press reported. Since then, multiple groups have been joining forces to pay the exorbitant costs in having them tested. 
Badu will be partnering with the African-American 490 Challenge, a partner of Enough SAID (Enough Sexual Assault in Detroit), which has been working to raise money and awareness surrounding the abandoned kits that have left rape cases without investigations and victims without closure. 
"This is a huge day for Enough SAID/AA490," Kym Worthy, Wayne County Prosecutor, said in a statement, according to the Detroit Free Press. "Everyone knows that Erykah Badu is a major, major talent in the music and songwriting industry. For her to lend her name, talent and time to this work is nothing short of a miracle. Justice for these forgotten sexual assault victims has been given a phenomenal assist."
The AA 490 Challenge derived its name from the exact cost it takes to test a single rape kit: $490. The organization aims to raise $657,090 by 2017 to get them all tested, leaning in on support from donors. Okayplayer reported Badu will donate $5 from each ticket purchase, with further proceeds from the concert's more expensive reception and VIP tickets, which cost $100 and $1,000 per-person respectively.
As Kim Trent, president of the 490 Challenge, noted, "It should come as no surprise that an artist with Erykah Badu's impressive history of social consciousness would join forces with the black women leaders of Detroit to address this important social issue." Badu regularly engages with fans and the media on socio-political issues, in recent discussing her views on rape culture. 
Read more: