'The Flash' Season 3: The CW Reveals First Look at Keiynan Lonsdale as Kid Flash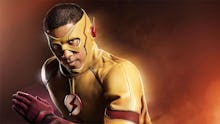 Keiynan Lonsdale joining The Flash in season two as Wally West seemed to point to an inevitable narrative turn: viewers were going to see Kid Flash at some point in the series. 
Now, the CW has made it official: Kid Flash is coming to the show in season three. Tuesday, the network shared a first glimpse at Lonsdale in-costume as the superhero. 
It seems likely that the use of Kid Flash will relate to what The Flash lead Grant Gustin already revealed — the series will be incorporating the highly popular Flashpoint storyline from the comics, with the season three premiere holding the title "Flashpoint" as well. This calls back to Barry Allen's decision to save his mother's life, in turn, creating an alternate timeline in which several superheroes end up becoming villains. 
It's unclear if this alternate timeline causes West's powers to only exist in that universe, or if he'll gain those powers in the regular timeline as well. Moreover, it's unclear if the show will be calling him Kid Flash, or whether they'd give him another moniker. Admittedly, it would be odd to call the character Kid Flash, considering Lonsdale is just two years younger than Gustin. 
However, at the very least, Kid Flash — or whatever he ends up being called — looks pretty cool. 
The Flash returns to The CW with its season three premiere October 4. 
Read more: