RNC Speakers' Schedule: Here's the 2016 Republican National Convention List So Far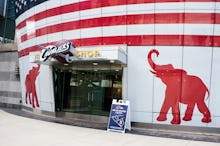 Donald Trump has promised to stage a spectacular nominating convention in Cleveland next week. Who actually ends up on the stage at Quicken Loans Arena is still developing, but here's the what we know so far.
His wife and children
The presumptive Republican nominee's family has been a huge part of his attempts to balance his bombast and portray himself as a caring husband and father.
Trump's wife, Melania, accompanied him on his famous escalator entrance into the race for the White House in June 2015, but hasn't made the solo whistle-stop tours conducted by the spouses of Trump's rivals.
However, the former model will indeed take the stage in Cleveland.
Also on board: Trump's children — Eric, Ivanka and Donald Jr. — who have proven important, polished surrogates for the Manhattan mogul.
They have hit the trail hard for their father and often served to soften his bombast and help him portray himself as a caring, successful dad — even if they couldn't vote for him in New York's Republican primary.
House Speaker Paul Ryan
It's not unfair to say the House's top Republican came kicking and screaming into the Trump fold — and has even disapproved of some of his talk since.
But Ryan's not looking to serve under a President Hillary Clinton, so he'll make the GOP case at the Cleveland arena known by locals as "The Q."
Trump's former rivals
The Republican national convention lineup will also include a solid set of GOP primary also-rans, some of whom have thrown their support to Trump and some who haven't.
Among them, per various accounts: early nomination favorite Scott Walker, the governor of Wisconsin; Trump booster and New Jersey Gov. Chris Christie; retired neurosurgeon Ben Carson; and former Arkansas Gov. Mike Huckabee.
Politicos and mystery guests
Some of the speakers mentioned weren't seeking the presidency (or the vice presidency) but are big-name figures within the GOP. Those include folks like Sen. Joni Ernst of Iowa.
Trump also has talked up the idea of a "winners' evening" featuring top sports figures such as Mike Ditka and Bobby Knight.
But the big storyline, considering Trump's contentious relationship with the party and its main figures on his steamroller ride to the nomination, has been who won't be giving a speech.
Unlikely to be seen on stage — or even at the 2016 convention — are prominent Republicans ranging from Mitt Romney to John Kasich to the former Presidents Bush to that empty chair Clint Eastwood worked over four years ago in Tampa, Florida.
Here's the complete list of speakers announced so far.
Pastor Mark Burns
Phil Ruffin
Congressman Ryan Zinke
Pat Smith
Mark Geist
John Tiegen
Congressman Michael McCaul
Sheriff David Clarke
Congressman Sean Duffy
Darryl Glenn
Senator Tom Cotton
Karen Vaughn
Governor Mike Huckabee
Mayor Rudy Giuliani
Melania Trump
Senator Joni Ernst
Kathryn Gates-Skipper
Marcus Luttrell
Dana White
Governor Asa Hutchinson
Attorney General Leslie Rutledge
Michael Mukasey
Andy Wist
Senator Jeff Sessions
Retired Lt. Gen. Michael Flynn
Alex Smith
Speaker Paul Ryan
Congressman Kevin McCarthy
Kerry Woolard .
Senator Shelley Moore Capito
Dr. Ben Carson
Co-Chair Sharon Day
Natalie Gulbis
Kimberlin Brown
Antonio Sabato, Jr.
Peter Thiel
Eileen Collins
Senator Ted Cruz
Newt Gingrich
Michelle Van Etten
Lynne Patton
Eric Trump
Harold Hamm
Congressman Chris Collins
Brock Mealer
Congresswoman Marsha Blackburn
Governor Mary Fallin
Darrell Scott
Lisa Shin
Governor Rick Scott
Chairman Reince Priebus
Tom Barrack
Ivanka Trump
Attorney General Pam Bondi
Jerry Falwell Jr.
Rabbi Haskel Lookstein
Chris Cox
Senator Mitch McConnell
Tiffany Trump
Governor Chris Christie
Donald J. Trump Jr.
Governor Scott Walker
Read more: