The Complete Guide to Mastering Zucchini Noodles, AKA Zoodles — Even Without a Spiralizer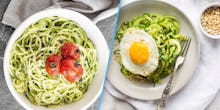 Two fun facts about the great zucchini: It's called a courgette across the pond, and it makes for a ridiculously simple pasta alternative. If you haven't heard of zoodles, zucchini noodles or zucchini ribbons (all pretty much the same thing), today is a very lucky day for you, indeed. 
Zoodles can stand in for standard pasta entirely, or they can be used to bulk up carb-heavy dishes with few calories. They can be used for linguine dishes, stir-fry, soups, salads and so much more. 
There's nothing left to wait for. Find everything you need for expertly making zucchini noodles below:
Tools for Zoodle-Making
There are several different kitchen tools that can help you create noodles from ripe zucchinis. You don't necessarily need to buy a new gadget to make zoodles yourself, but there are certain benefits to investing in an efficicent zoodle-maker. 
The Spiralizer
This apparatus is prime for the zoodle fanatic who makes zoodles a few times a week and has space to store this relatively big gadget. It's arguably the most efficient of all the tools (zoodles in mere seconds!) but it takes up a lot of counter space and takes a long time to clean. It's also got the biggest price tag — but you get what you pay for. The device ranges from around $25 to $50.
How it works: The spiralizer holds the vegetable in place while you crank a handle that pushes it through a blade and cuts it into long, thin strips. Most spiralizers come equipped with several types of blades to produce zoodles of various thicknesses. Spiralizers can cut many different kinds of foods (not just phallic veggies) including apples, sweet potatoes, turnips, cabbage and pears.
The Hourglass Zoodler 
Manufactured under many names ("The Vegetti" is by far the most interesting), these hourglass-shaped tools require a little more manpower because you need to physically twist the tool while pushing a vegetable against the blades within. It's a lot slower process than with a traditional spiralizer, and because of its narrow shape, the tool is most suitable for cutting long and thin pieces of produce, like carrots and zucchinis. (You could ostensibly cut other types of produce into long, thin stalks to fit through the zoodler, but this could lead to a lot of wasted pieces.) 
This type of tool typically costs between $10 and $20, and it's small enough to be stored in a standard kitchen drawer or cabinet — meaning it's a good choice for the tepid zoodle fan. 
How it works: You manually feed a vegetable into the double-sided gadget while simultaneously twisting the tool to turn out spaghetti slices. The apparatus is typically equipped with two different blades — one on either side of the hourglass — for thinner or thicker noodles. 
The Mandoline
Fab news: If you already own one of these kitchen tools, you can use it to make zoodles. The mandoline delivers more of a matchstick shape than a noodle or a spiral, but it'll do the trick if you don't want to invest in a new kitchen gadget.
How it works: There are countless varieties of mandolines on the market, so you'll need to play around with your version and select the blade that's thin enough to create matchstick-like noodles. Once you've made the right selection, you'll slide the vegetable over the mandoline in a grating motion until the veggie whittles down and you have enough pieces for a filling dish.
The Julienne Peeler
This tool might be the most time-consuming of them all, but it's also the least expensive and most storage-friendly option. A standard vegetable peeler will do the trick, though — the julienne peeler has a blade with serrated teeth that work to shred the veggies into thin strips. 
How it works: Peel the vegetable as you would peel the skin off of a cucumber. "You can make long, thin strips by keeping the peeler pressed into the vegetable, or shorter, matchstick cuts with quick, short strokes," the Kitchn notes. "Peel in place for several strokes. Turn and repeat until you can no longer peel comfortably." You'll be left with a thin nub of the vegetable that'll be too small to peel; feel free to slice it into the proper shape with a knife and compost the rest.
How to Cook Zoodles
Depending on the dish you're prepping, you can either leave your zoodles raw or cook them with your preferred method. 
Eat them raw: For a fresh, crunchy dish, eat your zoodles raw as they come. Shorter matchstick-shaped pieces make great additions to salads and are pretty enough to use as a garnish for basically anything. Room-temperature zoodles will also warm up when mixed with pasta sauces you've heated on the stove. Eating zucchini noodles raw will keep the spaghetti-like shape and will ensure whatever you're eating doesn't become too watery (the veg is 95% water, and that water will release into your dish when when heat is involved). 
How to cook them:
1. Put them in the microwave
To warm your zucchini noodles with minimal effort, place them in a microwave-safe bowl and nuke them.  According to food writer Lisa Bryan, cooking in 30-second increments will help prevent overcooking. Water will release during the cooking process, so dry the noodles with a paper towel before plating them to avoid a soggy meal. 
2. Saute them
Heat olive or another cooking oil in a skillet over medium heat. Add the zucchini noodles and cook until they soften to your liking; three to four minutes is pretty standard for warm but not-too-soft noodles. Dump the the zoodles into a colander, just as you would with regular noodles, as you'll notice a watery residue in the pan. To make the veggies extra dry, pat them down with paper towels before adding any other ingredients into the mix.
7 Delicious Zoodle Recipes
Once you've got your zoodles prepped, you can sub them in basically any pasta dish, from Italian dishes to Asian stir frys and beyond. A quick Google search will present you with innumerable zoodle recipes. A few favorites appear below:
1. Zucchini Noodles With Avocado Sauce
Get the recipe here.
2. Peanut Chicken Zucchini Noodles
Get the recipe here.
3. 20-Minute Pesto Zucchini Noodles With Cajun Shrimp
Get the recipe here.
4. Spring Vegetable Zucchini Noodle Soup
Get the recipe here.
5. Zoodle Arrabbiata With Chicken Balls
Get the recipe here.
6. Chicken Zucchini Noodle Ramen
Get the recipe here.
7. Zucchini Noodles With Everything Pesto and Fried Eggs
Get the recipe here.
8. Tomato Basil Zucchini Pasta With Goat Cheese and Asparagus
Get the recipe here.
Read more: