Trump Dodges Mike Pence VP Buzz, Brags of "Law and Order" Bona Fides in Indiana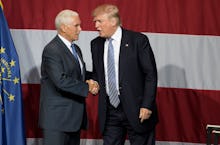 At a rally Tuesday night in Westfield, Indiana, presumptive Republican presidential nominee Donald Trump did not name the state's Gov. Mike Pence (or anyone) his running mate. But he continued to emphasize his "law and order candidate" credentials in the wake of recent police killings of Louisiana man Alton Sterling and Minnesota man Philando Castile and a mass shooting of police at a peaceful Black Lives Matter march in Dallas that killed five officers and wounded nine other people.
In what he told the crowd was a personal, pre-prepared reflection on the three incidents, Trump said the videos of Sterling and Castile's deaths were "tough to watch" and that "we have to figure out what happened," but warned "the hostility against police has to end, and it has to end right now."
"Our whole nation grieves and mourns for the loss of five heroes in Dallas law enforcement — these were great, great people," Trump said. "We pray for their families. We pray for their loved ones. We pray for all the wounded survivors. We pray for our country. So important.
"The police are not just part of our society, they are the best of our society." Later, in a somewhat offbeat reference to one of his favorite catchphrases, Trump added, "We can never forget the hundreds of thousands of great deals and great things police across our country do."
"Remember this, and I say it once, and I say it with love, and I say it with compassion," Trump continued, "... but I am the law and order candidate. We need law and order, and we need strength in this country."
Trump posited crime rates had done up under President Barack Obama, a claim that FBI data directly contests:
Trump contrasted his record to presumptive Democratic nominee Hillary Clinton, who he suggested was corrupt and responsible for the rise of the Islamic State group, and reiterated his view the Iran nuclear deal was a flop because "Persians, great negotiators." (Trump's solution was, fittingly, that he would have "doubled" sanctions and have diplomats "leave the room" to bring the regional power to the table.)
He also chewed out former Florida Gov. Jeb Bush, who flopped in primary races against Trump earlier this year, for criticizing him in a recent MSNBC interview.
In a flippant reference to Pence, a widely rumored possible alternative to former Speaker of the House Newt Gingrich for Trump's VP slot, Trump remarked on the Pence's chances by asking the crowd, "Who the hell knows?"
Elsewhere, Bloomberg Insider's Jennifer Jacobs reported insiders say the public will have to wait until Trump's big reveal.
Read more: