Ruth Bader Ginsburg Doubles Down on Disdain for Donald Trump; Trump Goes Full Bully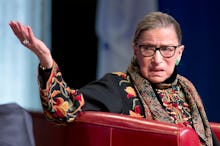 When it comes to Donald Trump, Supreme Court Justice Ruth Bader Ginsburg has a few thoughts. In a recent interview with CNN, the 83-year-old Ginsburg tore into the Republican nominee, calling him a "faker" and questioning in no uncertain terms his volatile temperament and shady dealings.
"He has no consistency about him," Ginsburg said. "He says whatever comes into his head at the moment. He really has an ego.
"How has he gotten away with not turning over his tax returns? The press seems to be very gentle with him on that."
Ginsburg has been clear: She cannot imagine a world in which Trump is the so-called leader of the free world. It would, she said in another interview published Sunday, possibly be the thing that finally prompts her to flee to New Zealand. "For the country," she said, "it could be four years. For the court, it could be — I don't even want to contemplate that."
For his part, Trump has expressed disdain for Ginsburg in nearly equal measure.
"I think it's highly inappropriate that a United States Supreme Court judge gets involved in a political campaign, frankly," Trump told the New York Times, in an interview published Tuesday. "I think it's a disgrace to the court, and I think she should apologize to the court. I couldn't believe it when I saw it." 
Trump also took a jab at her age, tweeting, "Her mind is shot. Resign!" 
Trump is right, though, that it's unusual for justices to involve themselves in the presidential race with targeted condemnations of its candidates. Exceptions made for a candidate who is himself an exception? However nontraditional he may be, critics on the left and right (but according to the Times, mostly the right) have questioned the move, wondering if Ginsburg may eventually have to recuse herself should a Trump case hit the Supreme Court docket.
But by that point, she'll be in New Zealand — and Trump will no longer be her albatross.
Correction: July 13, 2016
Read more: