2016 Election Poll Results: Vast Majority of Young Voters Say Donald Trump Is Racist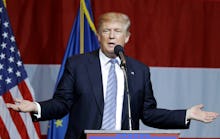 More than two-thirds of voters ages 18 to 30 say Donald Trump is a racist, according to a poll released Wednesday.
Every demographic of young voter tracked in the poll — black, Asian, Latino and white — see the presumptive Republican presidential nominee as a racist, according to the survey, which was conducted by GenForward and commissioned by the University of Chicago's Black Youth Project and the Associated Press-NORC Center for Public Affairs Research.
Young Latino voters led the different racial groups in saying Trump is racist, with 81% holding that view. They were followed by young Asian voters, 78% of whom said Trump is racist, and young black voters, 77% of whom said Trump is racist.
Fifty-eight percent of young white voters also said Trump is racist.
Given those results, it's unsurprising that the vast majority of voters ages 18 to 30 had an unfavorable opinion of Trump, according to the poll.
Three-quarters of young voters view Trump unfavorably, and only 21% said he was qualified to be president, the poll found.
Yet while young voters took a dim view of Trump, they also view presumptive Democratic nominee Hillary Clinton unfavorably.
More than half, or 54%, of young voters have an unfavorable opinion of Clinton, according to the survey.
Still, she leads Trump 38% to 17% among young voters, according to the poll.
Clinton's low number in a match-up against Trump is largely thanks to the hesitance of young Bernie Sanders supporters, only 51% of whom said they will vote for her in November.
But Clinton's campaign hopes that number will grow, especially after Sanders' endorsement on Tuesday.
The poll was conducted from June 14 to June 27 — when Sanders was still an active candidate.
Read more: