Jennifer Lopez and Lin Manuel-Miranada Sing "Love Make the World Go Round" on Jimmy Fallon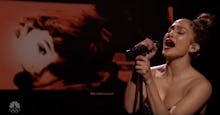 Jennifer Lopez and Lin-Manuel Miranda took the stage Tuesday on The Tonight Show Starring Jimmy Fallon for a touching rendition of their single, "Love Make the World Go Round." The song honors the lives lost in the Orlando, Florida, massacre at Pulse nightclub — an attack that hit close to home for both performers.
The pair teamed up for the emotional response after 49 people were killed celebrating both Latin night and gay pride month at Pulse the Florida club; 90% of those killed were Hispanic or of Hispanic descent — 23 were Puerto Rican, as Miranda and Lopez are.
The song features Miranda's iconic acceptance speech for the best score Tony Award in which Miranda says near tears, "Love is love is love is love is love is love is love is love, cannot be killed or swept aside." For their performance, Lopez wore a flowing cape resembling a church's stain glass windows, providing a shock of color in the pitch black venue. "We're not staying inside today, they're not taking our pride away," Lopez sings.  
Lopez received flack online Tuesday afternoon ahead of the performance when she tweeted a photo of her and Miranda using the hashtag #AllLivesMatter. The confusing use of a controversial outcry against the Black Lives Matter movement was quickly deleted, as Lopez spent the rest of the day retweeting fans and support of the new charity single. 
All proceeds from downloads of "Love Make the World Go Round" on iTunes benefits the Hispanic Federation's Somos Orlando fund, providing care and resources to those impacted by the terror attack. 
Read more: