Leslie Jones Helps John Cena Prepare to Host the ESPYs in Every Possible Scenario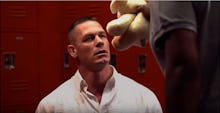 John Cena is hosting the 2016 ESPYs, which shouldn't seem like a major challenge for a guy who wrestled people to the ground for a living. But he's nervous, and he needs the support of his life coach.
That coach, naturally, is Saturday Night Live comedian Leslie Jones, in a video on sports comedy website The Kicker. Judging by her advice, it's safe to presume Jones is preparing Cena for every scenario possible — whether it's Kanye West coming onto the stage or Golden State Warriors forward Draymond Green trying to steal the spotlight. "You will put him in a headlock!" Jones shouts.
However, Cena doesn't understand the same advice shouldn't apply to Stephen Curry's 3-year-old daughter Riley, who has been known to grab headlines as well. 
Jones' methods turn more extreme, as she uses a stuffed puppy to represent Cena's self-doubt and continues to push his emotions. As Cena notes, the duo are using a punishment-reward system — though it seems to be quite beneficial for Jones, rather than the wrestler. 
While Cena might not be better equipped to host the ESPYs, Jones was happy with how things turned out on her end, adding some photos to her "spank bank."
"That boy fine," Jones concludes. "Thank you, John Cena." 
Watch the full video with Jones and Cena below.
Read more: