Neon Trees' Tyler Glenn Begs Church for LGBTQ Tolerance as Utah Youth Suicide Rates Surge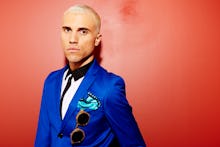 Neon Trees frontman Tyler Glenn wants the Mormon church to remember the names and faces of their gay teen members who recently died by suicide. The rate of youth suicides in Utah has nearly tripled since 2007, and the singer believes the Church of Jesus Christ of Latter-day Saints and its leaders are in part to blame for supporting anti-LGBTQ policy measures, further alienating their gay teen members. 
Glenn posted a live video to Facebook in July near tears, showing the photographs of two teens, who recently died by suicide in Utah. As he flashed a photo of one of their funerals while speaking to his nearly 20,000 followers, the "Animal" singer slammed church leader Russell Nelson and the rest of the leaders of the Church of Jesus Christ of Latter-day Saints for having the "blood of your members on your hands."
"Please don't let this be a summer of more gay suicides," Glenn begs. "Please make a space for your gay members. Please tell them they are OK and they're made in the image of God and they're not flawed. Please stop telling them that they are abnormal. Please, please, please, how many more? How many more?"
Despite the multiple occasions the Mormon church has had to right their wrongs toward the LGBTQ community, it has instead pushed for further anti-LGBTQ measures to take effect, including a ban on any Mormon youth from becoming members of the church if their parents are a same-sex couple. The church even threatened to cut ties with Boy Scouts of America if the organization modernized its policies to LGBTQ members, while supporting oppressive anti-LGBTQ measures internationally, Raw Story reported. 
Glenn was raised a member of the Church of Jesus Christ of Latter-day Saints, though he no longer practices. His voice began to choke in the video as he described his experiences serving a mission for a "flawed Church," noting, "I am gay, I am 32 and I struggle weekly to find my place in this world because, for so long, I struggled to find my place in God's plan."
KUTV reported that 86 Utah youth died by suicide in just two years, between 2012 and 2014. It's a frightening trend among Utah males, as compared with the rest of the country's age-adjusted suicide rates as visualized in the chart below.
These staggering numbers, as well as Glenn's emotional plea, spurred the following response from church spokeswoman Kristen Howey:
Suicide is tragic, no matter the explanation or circumstance. Our hearts ache for those who face such tragedy among those they love. The Church is actively pursuing ways to help, including online resources and local leader training, and we encourage communities to continue to partner on prevention and intervention. Every soul is precious.
At time of publishing, the Facebook Live video had been viewed over 465,000 times. 
Read more: