These Geode Cakes Will Rock Your World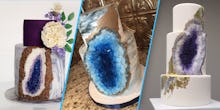 If a middle school science class and a bakery had a baby, it'd be a geode cake. Take a look at this beauty:
Geode cakes started their viral journey in January, after Rachael Teufel, founder of Intricate Icings Cake Design in Denver, created a spectacular centerpiece for an industry event, ABC News reported. Teufel crafted a cavern within the cake, then filled it with sugar crystals. Solid idea. 
Made of granulated sugar and rock candy, the geode is completely edible. But it's no walk in the park to create — Teufel told ABC it took 16 hours to create the original geode cake, displayed below. 
Since its debut, the cake has inspired other edible geode iterations from artists, and Teufel has created an online Geode Cake Tutorial for sale on Craftsy, an online marketplace for crafting tutorials. 
Want some more rockin' inspiration? Check out some other geode cakes below. 
This one from an Oklahoma bakery is very gneiss. 
This cake adorned with edible gold is also solid.
A party with this masterpiece has some tasteful cleavage.
Don't take cake for granite — eat this pink geode cake ASAP.  
Finally, this purple geode cake is definitely boulder than your dessert. 
Read more: