Exeter Athlete Allegedly Groped a Fellow Student — School Forced Him to Bake Her Bread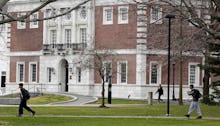 When a Phillips Exeter Academy track star groped his 17-year-old classmate Michaella Henry this year, the school minister said he'd be punished — by baking Henry bread, reported the Boston Globe.
The consequences Henry lived with were far more severe, like the sudden panic attacks she'd experience thinking about that unwanted encounter in the basement of the Phillips Church in Exeter, New Hampshire, with Chukwudi "Chudi" Ikpeazu. The weekly deliveries, which made Henry interact with her alleged abuser regularly outside of school, left her stressed — and questioning whether Exeter was really protecting its young charges from abuse.
"You did a great service for Chudi, because you gave him an opportunity to express his regret and to take responsibility for what he had done," Reverend Robert Thompson wrote to Henry, who facilitated the bread-baking as an "act of penance," according to the Globe.
"I was being reminded once a week that he assaulted me," Henry told the Globe's Spotlight team.
After months of the school trying to fix the problem internally, Henry went to the police. Ikpeazu was arrested in June, to be arraigned in August.
According to the Spotlight team, police are now further investigating Exeter itself, since this is only the latest in a string of mishandled sexual assault cases.
Reports released in April pointed to a Phillips Exeter Academy announcement stating that Rick Schubart admitted to sexual misconduct taking place twice during his nearly 40-year career at Exeter (though authorities said the new allegations involve other former faculty, not Schubart). And last year, an Exeter alumna wrote about her school's skepticism and dismissal toward an op-ed she wrote about rape culture at the prestigious private academy
In Henry's case, school officials didn't contact the police, or even Henry's mother, after the school was presented with Henry's allegations.
Last month, another Exeter teacher, Arthur Peekel, was charged with sexual assault — from a case back in 1973.
Read more: