Protesters Just Shut Down Another Minnesota Interstate for Philando Castile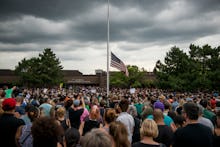 Shortly after a "Justice for Philando Rally" kicked off in Minneapolis, protesters led by the Coalition to Wake Your Ass Up marched onto Interstate 35, shutting down the major highway and blocking traffic from entering downtown Minneapolis. 
It's only been four days since Black Lives Matter protesters shut down nearby Interstate 94 in the name of Philando Castile — the 115th known black man shot and killed by police in 2016 — after he was killed during a traffic stop in Falcon Heights, Minnesota.
Last year, Black Lives Matter made headlines in the Twin Cities when a group of protesters blocked roads to the Minneapolis/St. Paul International Airport for what was called "Black Xmas," a national day of action.
Correction: July 13, 2016
Read more: