Will Mike Pence Be Donald Trump's VP? Speculation Grows After Meeting in Indiana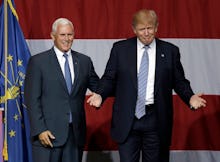 Donald Trump made a personal visit to Indiana Gov. Mike Pence's home Wednesday morning, according to multiple news reports, further stoking speculation that he'll pick Pence as his running-mate.
Trump traveled to Pence's residence with his son, Donald Trump, Jr.; daughter, Ivanka; and son-in-law, Jared Kushner — all of whom have been advising and guiding Trump throughout the campaign.
The meeting comes the morning after Trump held a rally with Pence in Indiana, where he was evasive about whether Pence would ultimately grace his presidential ticket.
"I don't know if he's gonna be your governor or your vice president! Who the hell knows?" Trump said Tuesday night.
Pence, who is facing a competitive re-election battle for governor in the Hoosier State, cannot appear on the ballot twice. He must decide by Friday whether to stay in the gubernatorial contest — consequently the same day Trump has set to announce his running-mate, according to NBC News.
But Pence is not the only one on Trump's VP short-list. Trump is also vetting former House Speaker Newt Gingrich and New Jersey Gov. Chris Christie.
On Tuesday, Fox News suspended its relationship with Gingrich over the VP speculation, also stoking intrigue about Trump's plans.
CNN, however reported that Trump has yet to make a decision.
Read more: