This Photo of Victoria Beckham Kissing Her Daughter Harper Is Making Parents Freak Out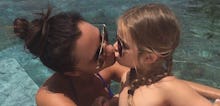 Victoria Beckham — otherwise known by her superhero name Posh Spice — was merely trying to set her spirit free and give her daughter a loving birthday kiss when all hell broke loose on her Instagram this week.
"We all love you so much," she wrote in the caption of a recent post in which she can be seen lightly pecking her 5-year-old daughter Harper Seven Beckham while lounging in what appears to be a serene lagoon.
"Kisses from mummy."
Some of her followers were reportedly grossed out by the sight of a mother giving her daughter a smooch on the lips.
"Eww sorry I'm old-fashioned it looks like they're making out," one wrote. "It is strange to kiss your parents on the lips," replied another.
Question: Who-oo-ooh do these people think they are?!
The negative comments have since been drowned out by many more positive ones from commenters who think that kissing a child on the lips is "beautiful" and a "perfectly normal" expression of "motherly love."
"You will cherish this picture even more when you watch her walk down that aisle," one follower added. "I still kiss my 22-year-old baby girl on the lips. I love her... that simple."
Other parents are posting their own pictures to social media as a way to #StandWithPosh (this isn't an actual hashtag people are using, but it would be cute!) and express the opinion that parent-on-child pecking is fine and harmless.
The subject of whether or not it's "okay" to kiss your kid on the lips has been a subject of debate for years, and there are parents aplenty on both sides of the argument.
Someone who is pro-kissing and also a celebrity mom is actress Jessica Alba. When Redbook asked her in 2014 about parents who refuse to kiss their children on the lips, she replied by saying, "Really? Why?! It's your baby. People allow dogs to lick at their mouths."
A compelling argument indeed. You know what? Victoria Beckham and Jessica Alba should totally grab a spot of tea together sometime!
Read more: