Taylor Swift Co-Wrote Calvin Harris' "This Is What You Came For" Under a Pseudonym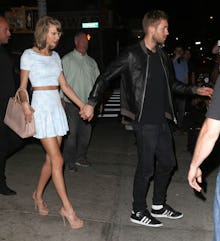 It seems both Calvin Harris and Rihanna have a third pop icon to thank for their song "This Is What You Came For"s No. 4 seat on the Billboard Hot 100. A rep for Swift confirmed to Billboard that Taylor Swift was the one to write the song, under the pseudonym Nils Sjöberg.
That means Swift, and her Swedish identity, retains its publishing rights and could also prohibit Harris from performing it, if she so chose.
On Wednesday, TMZ first reported that Swift had written the song at a piano and sent a recording of it to Calvin. He loved it and the two musicians hopped in the studio to record a full demo. Under mutual agreement that it was a bad idea to release the song as a couple, Swift went with a fake name. 
The TMZ conspiracy theory goes on to declare the collaboration as the straw that broke the camel's back. The day after the song was released, Harris told Ryan Seacrest on-air that he "can't see" a collaboration between Swift and Harris happening, which apparently hurt Swift's feelings. 
There's been a lurking suspicion by Swifties that Swift had something to do with the hit song, ever since some recognized her as the back vocals. For a hot second, Wikipedia had listed Swift as a co-writer before replacing it with the Sjöberg name. Allegedly, there's no well-known music writer named Nils Sjöberg in the music industry either, according to Seventeen magazine. 
In response to the revelations Wednesday, Harris went on a no-holds-barred Twitter rant blaming Swift and her team for leaking the story to try to make him look like a "bad guy" as a way to drum up press.
Fans of a good Twitter feud should cue up the Michael Jackson popcorn memes, because it feels like this battle is far from over.
Read more: