'Pokémon' Movie Planned? Reports of a Live-Action Movie Based on Popular Franchise Surface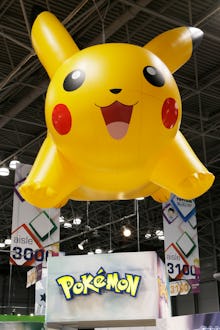 The hugely successful release of the mobile game Pokémon Go has led to a lot of revelations, ranging from discovering dead bodies to more exercise for the game's users. Now, because of the app's early success, Hollywood is also looking to capitalize on the Poké-craze.  
According to a report from Deadline, Legendary Pictures is pursuing the rights to make a live-action Pokémon film. To put this in perspective, while there have been 19 — 19! — Pokémon movies in the past, if this latest project comes to fruition, it would be the series' first live-action adaptation.
Many nostalgic fans are likely familiar with the 1999 film, aptly named Pokémon: The First Movie. That first installment featured the legendary Pokémon Mew and Mewtwo — and boasted a subsequent trailer that made it sound like a horror movie meets Mad Max Beyond Thunderdome and '80s disco.
While the thought of a live-action Pokémon movie is exciting, expectations for its success should be tempered, to say the least. Legendary Pictures recently released a movie adaptation of Warcraft, and while it was a financial success, especially in China, it was panned by critics. Moreover, this is an ongoing theme with live-action Japanese anime and video game adaptations in America — just look back at the horrific attempts at a Dragon Ball and Avatar: The Last Airbender franchise. 
If it's going to happen, however, fans might as well start an early campaign for Benedict Cumberbatch at Professor Oak. It just feels right. 
Read more: