The US Wastes 50% of the Produce It Grows Every Year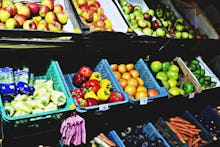 Americans are all too skilled at wasting food: Not only is $29 billion worth of food chucked into the trash each year just because people don't understand what the "sell-by" date means, a new report from the Guardian estimates that 50% of all produce is discarded, too. 
The Guardian analyzed official data and interviewed "dozens of farmers, packers, truckers researchers, campaigners and government officials," finding that the U.S. is still obsessed with perfect, or "blemish-free" produce. Much of the food that does not meet these arbitrary beauty standards is left to rot in landfills, which can have a serious impact on climate change. 
The Guardian cited a government tally that estimated $160 billion
Source: Graphiq
These numbers, however, only address the food that actually makes it to the market and doesn't consider the fruits and veggies that are "regularly abandoned in the field to save the expense and labor involved in harvest," the Guardian wrote. The numbers also neglect the produce that is left behind in warehouses because of minor blemishes, which don't actually affect the taste. 
There's no official government estimate on food waste related to ugliness, farm manager Tim Terpstra told NPR that about 30-35% of his crops are tossed "because of weird, cosmetic things they have." Wayde Kirschenman, a potato and vegetable farmer in California, said that "at times, 25% of the crop is just thrown away or fed to cattle," the Guardian reported. Kirschenman also said that he fed a "significant share" of his watermelon crop to cows because it wasn't pretty enough to go to market. When factoring in the numbers of food thrown away before it even gets to its retail spot, the Guardian estimated the total amount of food waste to be "half of all produce grown." 
The energy that is used up in the "production, harvesting, transporting and packing" of food waste around the globe generates over 3.3 billion metric tons of carbon dioxide, according to National Geographic. Even more shocking, the magazine reported: "If food waste were a country, it would be the world's third largest emitter of greenhouse gases, behind the U.S. and China." And considering that 805 million people in the world are hungry, the repercussions of wasting such a massive percentage of the food grown are alarming. 
There are many people working to solve this problem and change the country's attitude toward imperfect produce. In May, the Center for Urban Education About Sustainable Agriculture launched a cheeky and innuendo-laced campaign in San Francisco to encourage people to visit the farmers market and purchase "provocative" and misshapen produce. 
Over in Europe, supermarket chain ASDA teamed up with toymaker Hasbro to launch a "Wonky Mr. Potato Head" in the U.K. to raise awareness about food waste. The store also sells a "Wonky Veg" box for a discounted price that offers more than 10 pounds of fresh, but imperfect, produce. Denmark is a pioneer in reducing food waste, too. Through community efforts to redistribute produce that would have otherwise gone to waste, like food banks and buffets, Denmark has cut its waste numbers by a quarter since 2010, the Guardian reported.
While you might not be able to cure the U.S. of its food waste problem by your lonesome, a good place to start is your own fridge. There are a number of creative (and delicious) ways — like this avocado ice cream — to use up produce before it ends up in your trash can. 
Read More: