Starbucks Barista Refuses to Write #BlackLivesMatter on Woman's Coffee Cup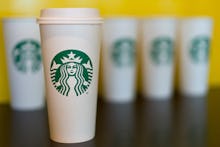 Coffee drinkers across the United States have been telling Starbucks baristas their names were "black lives matter" this week. The goal was to make the baristas write the phrase on customers' coffee cups, and shout it across the store when their orders were ready for everyone else to hear.
This did not go as planned for Genevieve Uzamere, a customer and journalist, who wrote about her recent Starbucks experience on her blog, The Ratchette, Tuesday. According to the post, baristas at Uzamere's local Starbucks in New York City told her they could not serve her under the name "black lives matter." Uzamere was then asked to stand aside while other customers placed their orders.
"Starbucks does not take a stance on racial matters," Uzamere was allegedly told.
This is ironic given the company's campaign to foster conversations about race among its clientele last year. In March 2015, Starbucks encouraged its baristas to write the phrase "Race Together" on cups to encourage customers to talk about racial inequality in its stores. This did not go well. Critics on Twitter were quick to point out — among other things — Starbucks' alleged role as a harbinger of gentrification:
Which brings us to today, where apparently, talking about race is being actively discouraged in some Starbucks stores.
"Is the value of a life a racial matter?" Uzamere wrote in her blog post. "Is simply acknowledging that black lives are worth something such a cause for controversy?"
Uzamere added that the baristas did not feel comfortable serving her, and one even phoned a district manager to ask if she was required to serve a customer named "black lives matter." Uzamere captured several parts of the exchange on Instagram, where she wrote the caption, "NYC Starbucks refuses to serve #BlackLivesMatter" under each of the following four videos.  
Uzamere ended her post by saying the baristas met her with "disdainful glares," even though they normally smiled at her. Apparently, people start acting out when you "[change your] name to one that begs the acknowledgement of [your] humanity." Neither Starbucks nor Uzamere immediately replied to request for comment. 
Read more: