Desiigner, Ghostface Killah and Others React to 16-Year-Old Rapper Rich Chigga's Viral Rap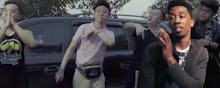 Back in February, 16-year-old rising Asian rapper Rich Chigga caught the hip-hop community completely unaware with viral rap video "Dat $tick." Wearing a pastel pink polo and a fanny pack, Chigga, real name Brian Imanuel, goes in with some incredibly savage verses on the song's video, which has been viewed well over 4 million times. We can now count Ghostface Killah, Tory Lanez, Desiigner, Cam'ron, 21 Savage, Madeintyo, Flatbush Zombies and GoldLink among those millions — and they're all down.
88rising sat all these rap icons down to watch the "Dat $tick" video, collecting their reactions on camera in a clip released Tuesday. Despite the arguably offensive pseudonym, subpar dabbing skills and top-buttoned shirt, Chigga was a hit among the rappers, who praised his originality and admittedly hard flow. 
Below are each of the rappers' candid reactions:
Torey Lanez: "You don't think he can rap? That nigga sick, he's killing like 70% of Americans. Shit."
Suddenly, Ghostface Killah's praise turns into more than that — he decided he wanted to hop on a remix with Rich Chigga. "Tell him I said, 'Much love, I appreciate that,'" the rapper told Rich Chigga's management standing behind the camera. "Let me get on that. ... You just blow it up out there."
It seems like there will be a lot more of Rich Chigga (featuring Ghostface Killah) in the imminent future. What a time to be alive. 
Read more: