Calvin Harris Slams Taylor Swift for Tearing Down Her Exes in an Epic Twitter Storm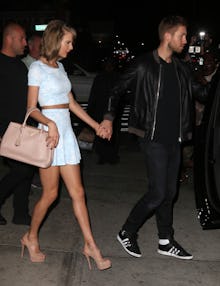 Calvin Harris has got a whole lot of feels about what it's like suffering through the Taylor Swift ex treatment. Wednesday, Harris, Swift's most recent ex-boyfriend, spoke out against what he's viewing as a smear campaign run by the international pop star and her team on Twitter Wednesday. 
The artist first began his stream of consciousness by retweeting an article from People Magazine which read, "Taylor Swift wrote Calvin Harris and Rihanna's hit 'This Is What You Came for,' rep confirms." 
"And she sings on a little bit of it too," Harris replied, offering a civil, positive response. "Amazing lyric writer and she smashed it as usual."
But then it got ugly, fast. "I wrote the music, produced the song, arranged it and cut the vocals though. And initially she wanted it kept secret, hence the pseudonym," he explained. "Hurtful to me at this point that her and her team would go so far out of their way to try and make ME look bad at this stage though."
People reported Swift used the alias "Nils Sjoberg" in order to write Harris' latest hit with Rihanna, and was upset when Harris told reporters while promoting the single he couldn't imagine working with his then-girlfriend on a track. Weeks after the pair split, Swift began traveling the world with her current boyfriend, Tom Hiddleston. 
"I figure if you're happy in your new relationship you should focus on that instead of trying to tear your ex bf down for something to do," Harris scathingly continued. "I know you're off tour and you need someone new to try and bury like Katy ETC but I'm not that guy, sorry. I won't allow it." 
Well damn, Harris, tell us how you really feel? 
The artist ended his exposé with a positive, albeit shady, spin: "Please focus on the positive aspects of YOUR life because you've earned a great one. God bless everyone have a beautiful day."
It's unclear what exactly encouraged Swift's camp to release their statement about her use of that Nordic pseudonym. The single in question, though, is continuing to dominate the charts, most recently landing on the top spot of the Canadian Billboard 100. The song is currently No. 4 on the Hot 100. 
It seems Harris has a veritable army of supporters on Twitter. Within an hour of posting his rant, the hashtag #TaylorSwiftIsOverParty began trending, celebrating the celebrity's demise and giving users space to air their grievances with the pop star. Other supporters rushed to try to cancel the party. It feels like this war of fandoms is only just beginning.
July 13, 2016, 3:26 p.m.: Katy Perry seems to have weighed in on Harris and Swift's spat, sharing a deftly placed Hillary Clinton smirk meme later Wednesday afternoon. About 45 after that tweet, she also retweeted one of her own tweets from May 2015 — just before Taylor Swift released her "Bad Blood" video — in which she wrote: "Time, the ultimate truth teller." 
Read more: