CBS News Producer Charles Beau Menefee Fired for Threatening to "Bomb" Protesters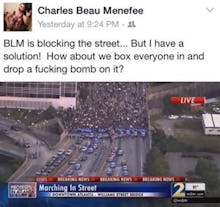 An Atlanta CBS News producer was fired for posting several racist and violent remarks on Facebook about Black Lives Matter protesters. 
Charles Beau Menefee, an Emmy Award-winning producer for CBS46, posted screenshots of coverage of BLM protesters marching and blocking the Williams Street Bridge in Downtown Atlanta. 
"BLM is blocking the street," his post said. "But I have a solution! How about we box everyone in and drop a fucking bomb on it?"
Menefee also recently made racially charged remarks about Alton Sterling and blamed BLM for the killing of police officers in Dallas.
In another Facebook post, he made insulting remarks about Sterling and called black Americans "unevolved, uncivilized turds."
"An armed, ignorant piece of shit with a gold grill in his mouth like Alton Sterling was totally a reason for you un-evolved, uncivilized turds to kill good, moral, moral, civilized people like police officers," he wrote. "Go die, Black Lives Matter."
Menefee also suggested that someone should shoot down the BLM protesters at their next march or protest:
The CBS46 News station fired Menefee after viewing his racist rants on Facebook.
According to the Atlanta Journal Constitution, CBS46 general manager Mark Pimental said Menefee was terminated from his position at the news station.
Menefee won two Emmys in 2012 as a photojournalist in the "investigative report: single story" and "crime: single news story" categories. Last year, he was nominated for an Emmy for his general assignment coverage of the Ferguson protests.
AJC also reported that the station has heightened security following his termination.
Let Menefee's firing serve as a reminder for one simple tip to keeping your job: Don't be racist.
Read More: