Alexander McQueen's DNA Could Be Turned Into "100% Human Leather" Handbags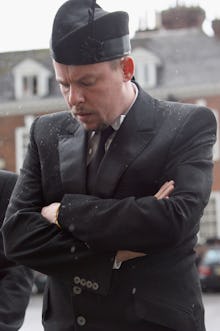 Oh, good. A designer has reportedly gotten ahold of Alexander McQueen's DNA and plans to use it to grow human skin, which she will then use to craft leather accessories. She named her label Pure Human. Because what else could it reasonably be called?
Tina Gorjanc said she aims to spotlight the "shortcomings concerning the protection of biological information," according to Dezeen:
If a student like me was able to patent a material extracted from Alexander McQueen's biological information as there was no legislation to stop me, we can only imagine what big corporations with bigger funding are going to be capable of doing in the future.
Which, yes, is important to note: Gorjanc was a student when she started on this project, and at this juncture, it's just a proposal. Still, she has successfully grown a small sample of skin tissue, according to Oyster magazine. 
It's unclear whether McQueen, who died in 2010 at the age of 40, would approve of Gorjanc's plan, but he was famous for pieces that conveyed a sense of darkness. He often dabbled in the grotesque: McQueen's debut collection was 1992's Jack the Ripper Stalks His Victims, his graduation project at Central Saint Martins. In homage to Ripper's calling card, McQueen attached a lock of his own hair to each piece. The owner of the debut collection has agreed to possibly donate hair if Gorjanc can perfect her process, Dezeen reported. The sky could be the limit.
A sample label advises basically the same skin care regimen to maintain the "100% human leather" as a dermatologist would recommend to maintain one's face: Pure Human garments should not be overexposed to damaging UV rays, should be given adequate sun protection and should be moisturized.
In other words, "It rubs the lotion on its skin or else it gets the hose again."
Read more: