'Mr. Robot' Season 2 Premiere: What You Need to Know Ahead of Show's Return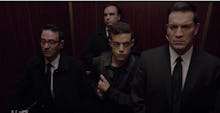 Still reeling from all the plot twists from the critically acclaimed first season of Mr. Robot? That's understandable. While the show seems destined for Emmy recognition, that didn't make some of the first season's narrative turns any easier to absorb — especially only viewed once. 
Many of the big revelations from last year's season finale were left off-screen, and several characters are on the precipice of continuing fsociety's global revolution — or trying to stop it. With the second season set to return Wednesday at 10 p.m. Eastern on USA Network, here's what you need to know ahead of the premiere.
(Editor's note: Spoilers ahead for the first season of Mr. Robot.)
The hack worked, but Elliot doesn't know what really happened, and neither do we. The season one finale begins with Elliot waking up in Tyrell Wellick's car; he doesn't know what's happened in the past three days. But considering the audience is given Elliot's perspective of the post-hack chaos — and his view is hard to trust given his dissociative disorder and repeated hallucinations — we have to hear about it from the other members of fsociety. 
This much is clear: The hack worked, and E-Corp (or Evil Corp, as everyone refers to it) was successfully breached, throwing the global financial market into chaos as a process. Moving forward, Elliot and fsociety will have to deal with the consequences of their digital revolution, which — as the season two previews indicate — includes being hunted down by the FBI. 
Where is Tyrell Wellick? The season two previews have also suggested that Tyrell, the former, Patrick Bateman-esque Evil Corp employee with aspirations to be Chief Technology Officer before he was fired, will take some of the fall for the Evil Corp hack. This is fair; the last we see of Wellick, he's asking Elliot to execute the plan. 
But where the hell is he? Elliot wakes up in his car, three days later, but he has no idea what happened to him — and neither does Tyrell's wife.  
A Facebook Live stream from Mr. Robot's Facebook page on July 7 suggests that Tyrell is alive, as he's seen helping Elliot perpetuate the hack. However, Elliot could have also killed him after finalizing the hack, and viewers could be faced with a similar situation to the Mr. Robot Fight Club persona played by Christian Slater — Tyrell could exist in the show from here on out as a figment of Elliot's imagination. 
Will Angela climb E-Corp's corporate ladder? As Elliot continued to conspire against Evil Corp, his childhood friend Angela took a completely different path. The last we see of her, she's morally conflicted, but hasn't fully denounced the corporate tactics at the company.
This makes sense, in a twisted way — something the Atlantic's Lenika Cruz likened to Walter White's transformation on Breaking Bad. She and Elliot share the morbid bond of having both of their parents die from cancer at the hands of the Evil Corp's negligence, and she was desperately hoping to sue them as a point of revenge. However, the higher-ups working at Evil Corp are impressed with her tenacity, and offer her a position, she has no other options to pay off her family's loans, after being unceremoniously fired from her previous job.
Evil Corp's CEO Phillip Price is particularly drawn to her at the end of season one, especially after her composed reaction to witnessing a suicide by one of the employees after the fsociety hack. The audience will likely be pulling for Angela to destroy the corporate hierarchy from within, but considering she promptly brought Prada shoes to replace her blood-spattered pair from the suicide, expectations should be — initially, at least — tempered.  
Will Whiterose appear again? One of Mr. Robot's most fascinating characters appeared in just one scene in the first season, but Whiterose — a transgender woman at the helm of the mysterious hacker collective that aids Elliot with the Evil Corp hack — could have a similar role in season two. 
Sure, she says her time is limited, and she literally times her conversation with Elliot to the very second. However, a bonus scene from the first season plainly hints that she's been playing both sides of the game, showing up at a corporate event in disguise as a man and speaking with Evil Corp's CEO about the hack. 
At the very least, Whiterose's true intentions can't be condensed into the viewpoint of fsociety, or Evil Corp. She has something else in play, even if it's just "watching Rome burn," as she conveys to Price.
Read more: