Chrissy Teigen Just Dragged Piers Morgan on Twitter — And It's Epic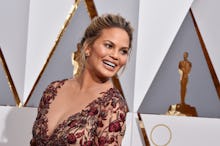 It's Wednesday, and Chrissy Teigen is back at it again with a savage Twitter clapback — and it's a familiar target of hers: Daily Mail's editor-at-large Piers Morgan.
The story begins — as all stories do — with the incessantly run, perpetually incorrect tabloid reportage on whether or not Jennifer Aniston is pregnant. Aniston herself penned an essay on the rumors for the Huffington Post on Tuesday, in which she set the record straight:
"For the record, I am not pregnant," she writes. "What I am is fed up. I'm fed up with the sport-like scrutiny and body shaming that occurs daily under the guise of 'journalism,' the 'First Amendment' and 'celebrity news.'"
But in a column for the Daily Mail, 51-year-old Morgan rejected Aniston's claim, instead suggesting that the onus is on her and celebrities like her who preen and pose for magazine covers:
There's another reason why the media objectify and scrutinize famous women, and why little girls get confused about beauty and body image. It's this: Female stars like Jennifer Aniston deliberately perpetuate the myth of "perfection" by posing for endless magazine covers which have been airbrushed so much that in some cases the celebrity is virtually unrecognizable.
Enter Teigen, who took to Twitter to call Morgan out for his habitual trolling tendencies.
Morgan responded, of course, calling Teigen "my little bundle of hypocrisy."
For his part, Morgan claimed in a tweet that his column has been "woefully misreported," though he doesn't specify how or where.
The feud continued with salty remarks from Morgan, aimed at Teigen's so-called "childish impudence," followed by the thinly-veiled threat to attack the Sports Illustrated model in his next column.
The internet: a magical place where celebrities fight for our amusement.
Read more: