A Complete Guide to Taylor Swift's Boyfriends, Arranged By What Kind of Cereal They'd Be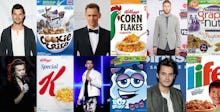 It is a well-known fact that Taylor Swift has been in a number of relationships with various famous men. It is a slightly lesser-known fact — but still a fact nonetheless — that Taylor Swift has always had a strong relationship with cereal. "I really want cereal right now," she once tweeted. Same.
Both of the above facts beg the inevitable question: What if all of Taylor Swift's ex-boyfriends were cereal? Which flavors would they be?
It is a question worth exploring! 
Here's a complete list of Taylor Swift's boyfriends, arranged by what kind of cereal they'd be.
1. Joe Jonas — Boo Berry
When he dated Taylor Swift: 2008
Why he is Boo Berry: Jonas reportedly broke up with Swift via a 27-second phone call, which is barely any better than a full-on ghosting. "Boo! I'm leaving you," is something he may have even said on the call.
2. Taylor Lautner — Cookie Crisp
When he dated Taylor Swift: 2009
Why he is Cookie Crisp: Lautner is most well-known for being a wolf. The current Cookie Crisp mascot is a wolf named Chip. This is almost certainly not a coincidence.
3. John Mayer — Life
When he dated Taylor Swift: 2009-2010
Why he is Life: John Mayer loves Life cereal. He said so in a January 2015 tweet. He once even wrote a song about Life cereal. It was called "Heart of Life." His extreme love of Life cereal resembles his extreme love of himself; therefore, he is Life cereal.
4. Jake Gyllenhaal — Apple Jacks
When he dated Taylor Swift: 2010
Why he is Apple Jacks: Gyllenhaal and Swift once embarked on a highly publicized apple-picking journey at an upstate New York farm together. Also: Gyllenhaal played the role of Jack — as in "Apple Jack" — Twist in the 2005 gay cowboy film Brokeback Mountain.
5. Conor Kennedy — Trix
When he dated Taylor Swift: 2012
Why he is Trix: It is common knowledge that Trix are for kids. At a barely legal 18 years old, Conor Kennedy was basically a kid himself when he and Taylor, who was 22 at the time, went out.
6. Harry Styles — Special K
When he dated Taylor Swift: 2012-2013
Why he is Special K: On November 7, 2010, Harry Styles tweeted "Special K :D" without any further context. This tweet could be open to a number of interpretations, one of which is that he was self-identifying as the cereal Special K.
7. Calvin Harris — Grape Nuts
When he dated Taylor Swift: 2015-2016
Why he is Grape Nuts: Calvin Harris has been acting totally nuts ever since he and Taylor broke up last month! Have you seen his recent tweets?
8. Tom Hiddleston — Corn Flakes
When he dated Taylor Swift: 2016-Present
Why he is Corn Flakes: Taylor Swift and Tom Hiddleston's relationship has been one romantic comedy trope after another. He recently even wore a shirt that said "I Heart T.S." This is extremely corny behavior!
Read more: