Chicago Area Muslim Group Posted Billboards to Combat Terrorism — Here's the Problem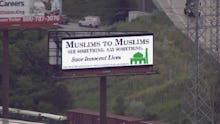 On a bustling highway in Bolingbrook, Illinois, — a suburb of Chicago — a billboard displays a strong message for the Muslim American community. 
"Muslims to Muslims: See something. Say something. Save lives," the billboard reads. 
The display was made and paid for by the Association of Pakistani Americans of Bolingbrook, and several of them popped up on highways last summer as well.
"We are trying to tell average Americans this is who we are, and we do not condone (terrorism)," Talat Rashid, founder of the group, told the Chicago Tribune. "If we see anyone in our community that is off track, we will let the authorities know."
However, some community leaders believe this particular message is "gimmicky" and dangerous to the perceptions of the Muslim American community in this current political climate. Ahmed Rehab, the executive director for the Council of American Islamic Relations in the Chicago area, believes this to be the case. He says the billboard reaffirms harmful misconceptions.
"The problem with this particular billboard is in this specific messaging," Rehab said in a phone interview with Mic. "There's no data to suggest that Muslims are not reporting suspicious terrorist behavior that comes to their attention."
"On the contrary, we have a strong relationship with law enforcement," he added. "Many of the cases have been cracked with the help of Muslims. To me, this message seems to cement the misperception that this isn't happening,"
Rehab has a point.
While the billboard is an attempt to tackle terrorism, it's based on a completely false premise: That the Muslim American community isn't willing to cooperate — and hasn't already been cooperating — with the authorities about terrorism. In fact, 40% of terrorism-related arrests were based on tips and information given by Muslim Americans. 
According to a recent University of North Carolina study, Muslim Americans have given nearly three times as many tips to the U.S. government than foreign governments between 2001 to 2015. They also nearly tie with the number of tips the FBI and CIA have reported.
Rehab also said that the billboard doesn't address the nuances of combatting terrorism, which has become a primary cause of racial profiling, spying and stereotyping of innocent Muslim Americans.
"If your audience is Muslims, having a billboard on a highway doesn't seem to be the smartest platform to reach them," Rehab said. 
He also said that targeting Muslim audiences specifically — whether that may be through social media, mailing lists and mosques — would have enabled the organization to have an effective and more nuanced conversation about reporting on suspicious terrorism behavior. This is the exact type of work that he aims to do with CAIR's Chicago chapter.
"We're able to have a message about what it means to report issues without engaging in racial profiling which is something that we also talk to law enforcement about: how to fight terrorism without generalizing, racially profiling or stereotyping," he said. "Those kind of nuances are missed out by non-specialist organizations which just want to put out what I consider a gimmicky message — which doesn't really help the stated goal."
There's certainly something dangerous about telling people to say something when they see something. It criminalizes Muslim Americans who engage in religious practices, despite the fact white supremacists have committed exponentially more domestic terrorism attacks in the United States. 
So where is the billboard for them? 
Read More: