Boris Johnson Named UK Foreign Minister, State Dept. Spokesman Nearly Laughs Out Loud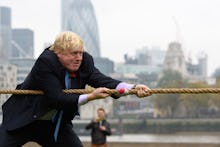 Former London Mayor Boris Johnson — a top campaigner for Brexit leading up to the referendum for the U.K. to leave the European Union — has been appointed the country's new foreign minister.
Newly-anointed Prime Minister Theresa May, who recently took helm of the Conservative Party following the resignation of prior Prime Minister David Cameron over the outcome of the vote, made the appointment on Tuesday, the BBC reported. Johnson himself was widely expected to contest May's premiership when Brexit succeeded, but he turned down the role, sparking outrage among some members of parliament.
The appointment is causing a stir, since Johnson is well-known for voicing impolitic thoughts about other world leaders. State Department spokesman Mark Toner nearly broke into open laughter when hearing word of the news on Thursday.
Recovering somewhat, Toner told the press, "I mean, look, we're always going to be able to work with the British, no matter who is occupying the role of foreign secretary, because of our deep abiding special relationship with the United Kingdom," reported BuzzFeed. "We congratulate Foreign Secretary Hammond on his new role [as Chancellor of the Exchequer] and we look forward to engaging with Boris Johnson as the new foreign secretary."
Just two weeks ago, May mocked Johnson's negotiating skills by saying, "I seem to remember the last time he did a deal with the Germans, he came back with three nearly new water cannons," according to Bloomberg.
Johnson also once made reference to African people's "watermelon smiles" and "piccaninnies" while discussing former Prime Minister Tony Blair's international trips. In another incident, he criticized President Barack Obama's "ancestral dislike" of the now-dwindled British Empire in a rant about the U.S. leader's "part-Kenyan" heritage.
According to the Guardian's Homa Khaleeli, the Brexit referendum encouraged xenophobia and racism throughout the U.K.:
True Vision, a police-funded hate-crime-reporting website, has seen a 57% increase in reporting between Thursday and Sunday, compared with the same period last month. This is not a definitive national figure – reports are also made directly to police stations and community groups – but Stop Hate UK, a reporting charity, has also seen an increase, while Tell Mama, an organisation tackling Islamophobia, which usually deals with 40-45 reports a month, received 33 within 48-72 hours.
Cameron miscalculated in expecting that Johnson would campaign for the Remain campaign, reported the Guardian, believing the former mayor "had made a career, as a journalist and politician, grandstanding as a Eurosceptic while fundamentally believing that Britain should remain in the EU."
May's appointment of Brexit's most visible champion will likely rankle other European leaders, most of whom have roundly criticized the referendum, and some of whom have called for the U.K. to get out as soon as possible.
"I do not understand why the British government needs until October to decide whether to send the divorce letter to [EU headquarters in] Brussels," European Commission president Jean-Claude Juncker said during a German television appearance, the New York Times reported. "I would like it immediately. It is not am amicable divorce, but it was also not an intimate love affair."
Since Johnson is also known for an outsized personality and antics (such as a time he was caught hanging in midair on a zipline while waving British flags), many have taken to joking about how the former mayor will handle the role — as well as whether he will cause any international incidents.
Read more: