James Blake Reveals He Scrapped Beyoncé's Contributions to Their 'Lemonade' Collaboration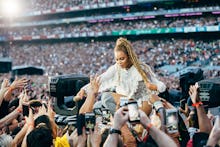 James Blake offered listeners a glimpse behind the scenes of his work on Beyoncé's
However, as emotional and harmonious as the duet sounds, Blake said it was just him and an engineer sitting in the studio together; Beyoncé was nowhere to be found. 
"It ended up just being me and an engineer in a room," Blake said. "Him playing me something that just sounded — like the start of something — and I wrote something that was completely against the brief." 
Her camp sent over lyrics for Blake to sing during his studio session, but the artist said: "I've never sung anybody else's lyrics. So I just assumed that's not what I was going to be doing."
That's when Blake decided to pull out his phone and scroll through some lyrics he had written about something — someone — completely different. "But it fit somehow into the song and it fit into the album," he said. "And I'm just honored that they used it."
"Forward" was the first time he and Bey had worked together. Blake added that the Lemonade 
His spot on the definitive album of the year "did more promotion for my record [The Colour in Anything] than probably anything else ever will."
Blake also revealed he could have been on one of Drake's biggest tracks to date, "0 to 100/The Catch Up," but he wasn't happy with the way the Canadian hitmaker's team went about sampling his music. Apparently, Drake's team came to Blake asking for permission late into the process of putting together the track, and he turned it down.
"Just because someone has an impressive amount of clout and a global platform, I don't give a shit about that, I just want to make good music with people," he said. "And it was good music. But just ask me." 
When he heard how much money he sacrificed by making that call, he admitted he "spit out his drink," but still insisted "I'm over it. If anything, I could actually do with the track being out, I did like it, but I don't regret the decision."
Read more: