The Best NSFW Instagram Hashtags Use Special Characters to Hide Porn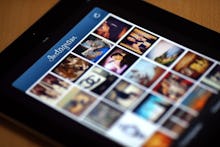 Dirty, explicit, NSFW photos are hiding on Instagram, but you'd never know it from a casual scroll through your feed. 
Instagram's strict community guidelines ban nudity on the platform. That includes "intercourse, genitals and close-ups of fully nude buttocks." The photo-sharing app is notorious for cracking down on hashtags used for explicit content, removing recent posts in categories such as #boobs, #butt and the eggplant emoji. (Whatever, it's all about the popping-champagne emoji anyway.)
So users who want to share porn on Instagram are forced to get creative. They used to hide nudes under odd emoji combinations like solo water droplets and sexy-time fingers. The next big thing in Instagram smut? Umlauts, cedillas and accents. (Thêsë thïngs.)
Read more: Instagram Refuses to Free the Nipple — But It's Filled With Hardcore Porn 
If you want to see a dick pic on Instagram, you've gotta stroke those diacritic keys — you know, option-e, option-i. Here's what you'll find.
#cümshöt has 1,487 posts as of July 13
#blöwjob has 3,434 posts
#vägina has 7,460 posts
#dïcks has 87,211 posts
#änäl has 83,485 posts
#clït has 91,702 posts
#cöcks has 164,163 posts 
#pörnöö has 192,883 posts 
#tïts has 196,672 posts
#pornös has 199,194 posts 
#sëxçõdê has 456,887 posts 
If you're looking for more softcore images, there are a few hashtags that favor the milder side of sex that haven't yet been censored. #Pubes (25,160 posts), #ButtStuff (28,406 posts) and #Fornication (6,830 posts) are still live, although those categories feature more memes than skin. 
Underground Sex Instagram is a magical world, so have fun hunting. But when in doubt, cïrcûmflex. 
Read more: