Tituss Burgess From 'Unbreakable Kimmy Schmidt' Wrote the Funniest Yelp Review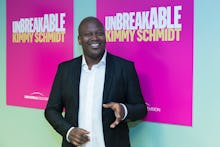 Tituss Burgess doesn't get mad. He gets even.
The star of Netflix's Unbreakable Kimmy Schmidt apparently had a bad experience with a moving company in Brooklyn, New York City. By his account, they never showed up, threatening to not do their job unless he wrote a Yelp review.
Well, Burgess did indeed write that Yelp review. It is the definition of petty — and absolutely hilarious.
Ever the smart showman, he starts with a plug, "My name is Tituss Burgess. I'm an Emmy-nominated actor for Unbreakable Kimmy Schmidt, currently streaming on Netflix. That's besides the point. But watch it."
He then begins a deliciously angry screed against the company, Franks Express, calling them "the absolute most unprofessional workers I have ever dealt with." He urges readers, "Do not use this company," and then threatens to post the review on all of his social media accounts.
He made good on the pledge, posting it on Twitter:
On Facebook:
And a video account of the ordeal on Instagram:
He even posted part of a text chain on Twitter, including a section where the alleged mover called Burgess "a fucking faggot."
Yelp quickly got involved on Twitter, asking Burgess to DM more details. The actor was happy to oblige. "Help me shut these guys down," he tweeted.
The lesson: Don't fuck with Emmy-nominated actor Tituss Burgess. He has a Yelp account, and he will use it.
Read more: