ESPYs Host John Cena Is the Reason We'll Be Watching Tonight — Here's Why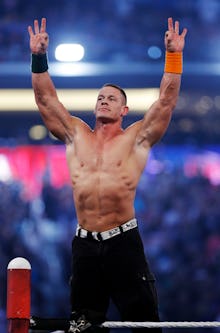 ESPN's 2016 ESPY Awards will air live Wednesday night at 8 p.m. Eastern on ABC, and we don't know about you, but we'll definitely be watching for John Cena. The WWE wrestler will host the awards show, which will honor achievements in athletics. And, with Cena at the helm, the night us sure to be a dream. 
Let's reflect on some of the reasons John Cena is our collective crush, shall we? 
He wasn't afraid to bare it all in Trainwreck — the star did some, um, pretty awkward sex scenes. And in an appearence on Conan in April he talked about the process of telling his real-life girlfriend that he was going to shoot a sexy scene with star Amy Schumer.
John Cena is also super inspiring: He's granted 500 wishes for children through the Make-A-Wish foundation, and, for this year's Fourth of July, Cena starred in video about the diversity of America for for Ad Council's Love Has No Labels campaign. Damn, boy.
So, while some may be tuning in to the ESPY's tonight to see whether Steph Curry will beat our LeBron for best male athlete — we'll be watching for John Cena. Sweet, kind, adorable John Cena.
Read more: