The Ultimate Guide to Making Red, White or Rosé Sangria — Without a Recipe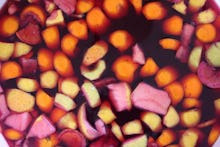 When making cocktails for a crowd, there are few drinks more well suited than sangria. The beverage consists of a refreshing mix of wine, real fruit and often a harder form of booze such as cognac or brandy. 
A good sangria strikes a balance of being sweet but not overly so. It requires no muddling or shaking, — just dump the ingredients in a pitcher and give it a quick stir before serving. No recipe is really needed to make a kick-ass sangria. Just follow the basic guidelines below. 
Pick Your Base
While sangria is traditionally made with red wine, it also can be made with a white wine or a rosé. Regardless of what type of wine you choose to make it with, Sheldon Wiley, bartender and cocktail curator at Union Fare in New York City, advises not splurging on a fancy bottle. "Save the expensive bottle for another night," he said. "Affordable bottles work well in sangria because you are going to dress it up." Here's a list of good, affordable bottles.
Red
White
Rosé
Add Fruit
A hallmark characteristic of sangria is its chopped fruit, which absorbs the booze and makes for great bites. Wiley said it's important to stick with fruits that are seasonal for the highest quality drink. Those fruits should also be fresh, not frozen, and they should be really firm (and so, bananas are not a great sangria choice). 
While fruit pieces are standard, Wiley said he actually prefers mixing fruit purees and fresh fruit juice into his sangrias. "The wine should be the star of the show in sangria," he explained. "You should still want to taste the wine when you make the drink." When you add in chopped fruit, it often soaks up the wine and other components of the sangria. "This makes the fruit taste great, but it steals from the flavor of the drink." Wiley said he'll often serve glasses of sangria with a skewer of fresh fruit, instead. 
The suggestions below work well either as fresh or pureed fruit: 
Red
White
Rosé
Mix In a Harder Booze
In addition to wine, most sangrias feature a more potent booze that kicks the drink up a notch. This step differentiates sangria from just a pitcher of wine with chunks of fruit mixed in. 
Red
White
Rosé
What About Soda?
Some sangria recipes call for soda to add sweetness and carbonation. Instead of messing with different flavor combinations, Wiley sticks to ginger ale. "It has never failed me in any combination, no matter what wines, fruits or other booze I use," he said.
Serving Sangria
Sangria can be made a day or two in advance, and should be chilled before it's served, Wiley said. He said he likes to serve the drink in a wine glass, but noted that the "ambiance of the place" can dictate the type of cup, which can be anything from a mason jar to a red solo cup. 
If all this sounds like too much, you could just cheat with this simple hack a la Starbucks. To each their own.
Read More: