Dylan Noble, Unarmed Man, Shown Shot by Fresno Police in Graphic Video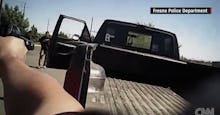 On Wednesday, body camera footage from two Fresno, California, police officers was released that show them shooting and killing 19-year-old Dylan Noble during a June 25 traffic stop.
Officers reportedly suspected the teenager of having a gun — in reality, he had a four-inch, transparent plastic receptacle containing clay, Fresno Police Chief Jerry Dyer said during a press conference, CNN reported. 
The video shows law enforcement yelling at Noble to show both hands as he sits in his pickup truck with the door wide open. Noble only has one arm raised, proceeds to get out of the car with both arms up and paces back and forth intermittently raising one arm. 
As he approaches the officers, he can be heard saying, "I fucking hate my life." The officers shoot Noble twice. He falls and shortly after they shoot him twice more as Noble lies on the ground slowly moving. 
"They just wanted to shoot him," Darren Noble, Dylan's father, said after reviewing the video Friday, according to the Guardian. "They're just trigger-happy." Noble's parents have since brought a lawsuit against the city of Fresno.
An internal investigation of the shooting is currently under way. The district attorney's office for Fresno County has also launched its own investigation. 
The release of the footage comes just one week after two black men, Philando Castile and Alton Sterling, were fatally shot by police officers, and footage from both incidents circulated online. Angered by the deaths, a lone gunman shot five officers in Dallas, Thursday, after an otherwise peaceful Black Lives Matter protest.
"In many respects, we are a spark away from a forest fire in our communities in America," Dyer added.
The body camera footage can be seen here. (Editor's note: The video below contains graphic footage. View with discretion.)
Read more:
July 14, 2016, 11:53 a.m.: This story has been updated.