It's Terrifyingly Easy to Make — And Sell — A Weight Loss Supplement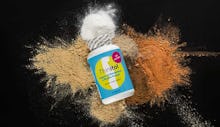 Walk into a grocery store and there's a supplement for any ailment you may have: Herbal weight loss pills claim to help shed pounds; tinctures declare they boost libido; and a host of other supplements allegedly relieve anxiety. But the Food and Drug Administration does not evaluate these products before they're sold, Consumer Reports noted in an article detailing how easy it is to make and sell supplements. 
Yep, those gummy vitamins from your childhood could have been produced just about anywhere — probably not some back alley, but it's still alarming that supplement oversight is basically nonexistent in the U.S. The FDA is not authorized to review supplements for safety or effectiveness before they're sent to market, the FDA website noted. 
"We have found people manufacturing supplements in residential basements and in labs that were smaller than a bathroom," Lyndsay Meyer, an FDA spokeswoman, told Consumer Reports. Brings to mind the shady RV meth labs from Breaking Bad, no? 
Consumer Reports performed its own experiment to expose just how easy it is to create supplements. Writers at the company successfully created 80 capsules of a weight loss supplement they dubbed "Thinitol." It cost the team just over $190 to buy the packaging and the six ingredients on Amazon and eBay — and the supplies arrived in just 10 days. They packaged the supplements on an editor's desk, using a hair dryer to create a tamper-proof seal. 
If they had wanted to sell "Thinitol," it would have been as easy as filling out a form with basic information (like a company name and address) to register the "facility" with the FDA, Consumer Reports noted. 
Many supplements are bottles of empty promises in the first place. An investigation led by New York Attorney General Eric Schneiderman revealed many supplements don't even contain DNA from the plants they list on the label, CBS News and Associated Press reported in February 2015. The investigation found some pills contained ingredients that weren't listed on the label, including pine, citrus, asparagus and wild carrot. 
Many popular supplement ingredients — like green tea extract powder, caffeine powder and kava — come with potentially harmful risks that aren't typically disclosed on supplement labels, Consumer Reports noted in a different report.
Tempted to drop some cash on a shiny bottle with big health claims? Check yourself before you wreck yourself. Maybe ask a doctor to recommend specific supplements or reputable brands, the Office of Dietary Supplements, an arm of the National Institutes of Health, suggested on its website. A "seal of approval" from an independent organization does not necessarily mean a product is safe or effective, the ODS noted, but it can assure consumers the product was manufactured according to certain standards. 
But if a product is making a claim that seems too good to be true (cough cough, vitamins to give you Kim Kardashian West's hair), it's probably not all it's cracked up to be. 
Read more: