Chance the Rapper Debuts a New Song to Honor Muhammad Ali at the ESPYs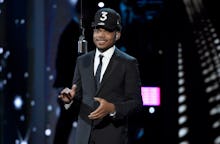 Besides being perhaps the greatest boxer of all-time, Muhammad Ali was also one of hip-hop's most inspired MCs — even before hip-hop even existed. He spoke in tongue-twisting poetry, manipulated the media, continually shocked and awed his audiences. It makes sense then that while paying tribute to him at this year's ESPY Awards, the show's organizers sought out a star with similar talents: Chance the Rapper, one of Chicago's most promising lyrical heavyweights.
The Chicago MC proved his ability to carry that mantle, closing the ESPYs by debuting a brand new track seemingly titled "I Was a Rock." The song featured contributions from Teddy Jackson, Donnie Trumpet and frequent Social Experiment collaborator Jamilah Woods, who released her debut HEAVN Monday, along with snippets of famed Muhammad Ali's lyrical speeches.
"God don't praise me because I beat Joe Frazier," a recording of a Muhammad Ali speech punctuated the ballad. "God don't give nothing about Joe Frazier/ God don't care nothing about England or America/ As far as wealth/ It's all his/ He wants to know how do we treat each other."
The speech dates back to July 1977, according to Genius, when Ali visited England to help raise money for boys' boxing clubs. The themes it hits on — the nature of God, kindness, humility — are choice lyrical themes for Chance the Rapper. They appear throughout his magical and endearing Coloring Book, which dropped in May. 
Watch the full performance below.
Read more: